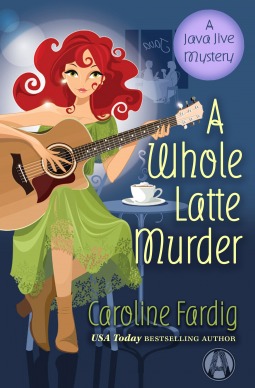 by Caroline Fardig
Published November 8th 2016 by Alibi
4.5 Stars
Synopsis: Coffeehouse manager and reluctant sleuth Juliet Langley returns in a gripping novel from the bestselling author of Death Before Decaf and Mug Shot. Just as things are perking up in Nashville, a serial killer sends tensions foaming over.
Juliet's personal and professional lives have recently received an extra jolt of energy. Her romance with the hunky detective Ryder Hamilton continues to simmer, and business at Java Jive has never been better. But her good mood quickly turns as stale as day-old espresso when she finds out that Ryder has been promoted to his precinct's homicide division. With him risking his life to catch the worst kind of criminals, Juliet's growing sense of unease ignites when a local college student goes missing.
Suddenly every Nashville resident is on high alert, especially Juliet's neighbor Chelsea. Juliet does her best to calm the girl's nerves, but her worst fears are confirmed when she finds Chelsea dead. Even though she tries her best to stay out of it, Juliet's involvement puts a strain on Ryder's first homicide case. The situation soon becomes even more personal for Juliet and her best friend Pete Bennett when one of their employees disappears during her shift. As a killer lurks in the shadows, Juliet, Pete, and Ryder seek out a double shot of justice.
My Review: This is the third installment in the Java Jive Mystery Series, but the first I have read. I must go back and read the others now. I really enjoyed this book. The characters were interesting, funny, with a real zest for life.
Juliet Langley is the manager of Java Jive. She seems to find trouble, or maybe trouble finds her. She promises Pete, her boss and best friend that she will not investigate when she finds a dead body, but apparently investigating is part of her make up. She is presently dating Ryder Hamilton, a police officer and he is not happy that she keeps inserting herself into dangerous investigations. When he takes her out to dinner to celebrate his promotion to Homicide, she is less than pleased. Jules is worried for his safety, although she does not seem to worry about her own. Juliet weasels herself into the center of a murder case that's much bigger and more complicated than it initially appears. She and a neighbour stumble upon a dead College Student in their building. During the investigation it comes to light that this might be tied to a missing college student as well as the strange behaviour of one of her baristas who was the roommate of the murdered girl. Juliet fully intends to find out what is going on and rescue Kira, her barista, from whatever she is involved in as well as help her friend uncover evidence to either prove or disprove her husband's involvement in the murder.
Juliet seems to have a confusing love life. She is dating Ryder, but has feelings for her BFF Pete. Does he have feelings for her? What about Stafford, the blushing police detective who seems to be around whenever Juliet gets in trouble or finds a body. Ryder comes with a past and that past catches up with him in this book. As well, he seems to love bossing Juliet around, and she is not happy with that. When he ignores her to continue working long after the other officers have quit for the day, she becomes more that a little peeved with him.
If the first two books in this series are as much fun as this one, then this will be a great series. This is a cozy mystery that centers around Java Jive, a coffee house with open mic nights. The characters are quirky, especially Gertie, Pete's grandma. There's a little humour, a little romance, and a whole lot of murder going on in Nashville. I look forward to catching up in this series and watching for the next installment to see what's in store for Juliet and her friends. I definitely recommend this book to cozy mystery lovers, mystery lovers and even the romance readers should enjoy this book. The publisher generously provided me with a copy of this book via Netgalley.