The Oysterville Sewing Circle by Susan Wiggs
Published August 13th 2019 by HarperAudio, William Morrow
5 Stars: 
Continue reading "The Oysterville Sewing Circle by Susan Wiggs, Audiobook review" →
The Exes' Revenge by Jo Jakeman
Published September 11th 2018 by Berkley Books
4 Stars: 
Continue reading "The Exes' Revenge by Jo Jakeman" →
Published November 13th 2018 by Zondervan
Continue reading "A Seat by the Hearth (Amish Homestead #3) by Amy Clipston" →
5 Stars
Published May 12th 2015 by NAL
This is the first book by Karen White that I've read, and I don't understand how she has not been on my radar before this. This was a mesmerizing story with strong, outstanding characters that hooked me and pulled me in right away. Merritt is a recent widow, who inherits her late husband's grandmother's home in Beaufort, South Carolina. This is the first surprise for Merritt as she has no idea that Cal had any family anywhere, little own a brother who is still alive. Then there is the arrival of her estranged stepmother, Loralee, and 10-year old half-brother, Owen. Thus begins the unraveling of secrets in both Merritt's and Cal's families, dark secrets from generations past.
When we first meet Merritt, I didn't like or understand her. She was stubborn, standoffish, rude and often downright mean to others. As the story unfolds you get to see what a sheltered person she is, one who has had to hide her emotions for so long, she's not sure how to act. Trying to find her way in a new town, find out who her husband was and why he kept so many secrets, and get to know family members she had no desire to know in the first place; Merritt is destined to learn more about the South, conquer her fears and become the woman she has always wanted to be. Gibbes, her brother-in-law, also comes off as uncaring and rude in the beginning of the story to Merritt, but not to Loralee or Owen, why is that? Loralee, on the other hand is sugary sweet constantly sharing the wisdom of her mama or that she has gained throughout her life. Finally, there is Owen, aka Rocky, who is a ten year old half-brother who is shy, a bit of a nerd, but oh so sweet. This novel is quite character driven so watching the walls come down from Merritt as her relationships with Gibbes, Loralee and Owen develop was a major element of the story.The mystery is ages old, but the clues are there and Merritt figures it out throughout the story with the last pieces dropping in place near the end of the book.
THE SOUND OF GLASS is a wonderful, character-driven story of mystery, family secrets, loss, second chances, and letting go. There are so many wonderful little sayings from Loralee, that I wanted to write many of them down myself. From beauty tips, to wise quotes about life and moving forward, Loralee was like a modern day philosopher. If you have not read anything from Karen White before, then I recommend this book. I know I will be reading more from her.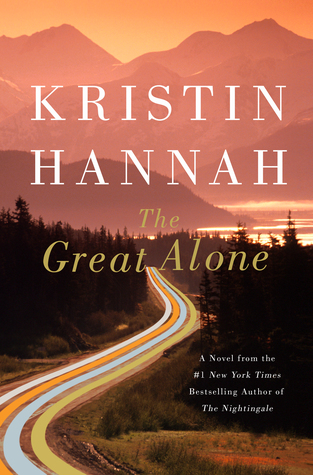 5 Stars
Published February 6th 2018 by St. Martin's Press
The Great Alone is a chilling, emotionally wrenching roller coaster ride. Kristin Hannah has created characters that are believable and realistically populate this story of a couple and their child caught between a parent she loves and cannot abandon and a parent who claims to love her.
When Ernt Allbright and Coraline marry, they are madly and happily in love. Along comes Vietnam and Ernt gets drafted. After fighting, being captured and remaining a POW of 6 years, Ernt comes back a changed man. Ernt can't hold down a job, he is drinking and becoming violent. Morale is at an all-time low and gas prices are at an all time high. The world is in crisis. Bombings, hijacked planes, and now college girls in Washington State have been disappearing. Danger is everywhere. Ernt, Cora and their daughter Leni finally make the move to Alaska where there is freedom in the last frontier, to start a new life. Alaska is a tough place to live and as they struggle to survive, the dark creeps into Ernt and he becomes a man suffering from PTSD and takes it out on his wife. Meanwhile Leni has finally found a place where she feels like she belongs and her first true friend.
I loved this book. An entertaining and emotional read with an engrossing plot and well-developed characters. With some very heavy duty issues covered in this book, keep a box of tissues close by. The say Kristin Hannah described Alaska in all its brilliance and desolation, I could almost like I was there. It was easy to see why Leni felt lost when she was not in Alaska. Leni is an extremely strong young woman. In the midst of becoming a person capable of surviving her family, Alaska, hard choices, and the tragedies that rock her world, Leni discovers the true families that love her. Of course the issue of PTSD and how it was dealt with back in the 70s was terrible to read about. Yet, the compassion, loyalty, friendships, camraderie that develops between the residents of Kaneq Alaska were amazing and loving. After reading many amazing reviews I was worried that this story could not live up to the hype. "The Great Alone" does not disappoint. This was another fascinating, thought-provoking, and captivating read. Heartbreaking at times, but also with moments of great love and unbelievable kindness. A gripping story where I was desperate to know what was going to happen next. A bittersweet but satisfying ending topped off this amazing read. I finished this book a few days ago, but am still thinking about the characters and the setting. I can't say that about all the books that I read. I want to thank St. Martin's Press for generously providing me with a copy of this book to read. The opinions shared are my own.