Amari and the Night Brothers (Supernatural Investigations #1) by B.B. Alston
Published January 19th 2021 by Balzer + Bray
About the Book: New York Times bestseller! Artemis Fowl meets Men in Black in this exhilarating debut middle grade fantasy, the first in a trilogy filled with #blackgirlmagic. Perfect for fans of Tristan Strong Punches a Hole in the Sky, the Percy Jackson series, and Nevermoor.
Amari Peters has never stopped believing her missing brother, Quinton, is alive. Not even when the police told her otherwise, or when she got in trouble for standing up to bullies who said he was gone for good.
So when she finds a ticking briefcase in his closet, containing a nomination for a summer tryout at the Bureau of Supernatural Affairs, she's certain the secretive organization holds the key to locating Quinton—if only she can wrap her head around the idea of magicians, fairies, aliens, and other supernatural creatures all being real.
Now she must compete for a spot against kids who've known about magic their whole lives. No matter how hard she tries, Amari can't seem to escape their intense doubt and scrutiny—especially once her supernaturally enhanced talent is deemed "illegal." With an evil magician threatening the supernatural world, and her own classmates thinking she's an enemy, Amari has never felt more alone. But if she doesn't stick it out and pass the tryouts, she may never find out what happened to Quinton.
---
5 Stars: ⭐⭐⭐⭐⭐
I'm not sure why I waited so long to read this book, but I am glad I finally picked it up. What an enjoyable, fun fantasy for MiddleGrades, but as an adult, I enjoyed it as well. The book focuses on thirteen year old Amari. She is smart, sassy and works hard to be strong in the face of bullying, teasing and those who try to tear her down. When her brother, Quinton goes missing, no one looks for him and most people think he is dead. Amari is sure he is alive and gets the opportunity to look for him in a magical world. She has been nominated for a summer tryout at the secretive Bureau of Supernatural Affairs. Amari just has to get her mind around the fact that there are mythological and fantasy creatures living amongst us, in disguise. There is a bit of a Men in Black vibe going on for me. Once again, she is taunted about not being good enough, but she doesn't give up.
I enjoyed getting to know Amari and some of the other magical characters. Amari finds out she is a magician and she needs to deal with all that comes with it. She is up against other "Magicals" who have know about the Supernatural world all their lives. She is a very likeable protagonist who has faced oppression all her life, so she jumps at the opportunity to discover new things, but even more so to discover what happened to her brother. Amari ends up making some close friends whom I love, and other characters are rather complex too. Some are friendly, others are not. Is it jealousy? There is a lot of action and some world building that brought this story to life for me. There are good guys and bad guys, but it is not always easy to tell which is which. There were some great twists, ones that surprised me and me saying, "WHAT?" It was perfect and I am ready for the next book in this series. Themes of friendship/companionship, perseverance, self-confidence, accepting help, overcoming racism, and not allowing others to put you down, are all evident in this book. I definitely recommend this one to anyone who enjoys a good fantasy story that is plot driven but has great characters. The publisher generously provided me with a copy of this book upon request. The rating and opinions shared are my own.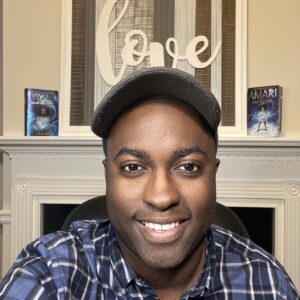 About the Author: B. B. Alston lives in South Carolina. His debut middle grade novel, Amari and the Night Brothers, has been published in 27 countries, and spent 29 weeks on the New York Times Bestseller List. In 2021, the book was named the Overall Winner for the inaugural Barnes & Noble Children's and YA Book Awards. A major motion picture is currently being developed by Universal, starring Marsai Martin. His second novel, Amari and the Great Game, will be released early next year.
When not writing, he can be found eating too many sweets and exploring country roads to see where they lead.