This meme was started by Rae Longest at Powerful Women Readers. As I am a grandmother, who loves to read to her grandchildren, a mother who loved to read to and with her children, and a retired teacher librarian, this meme really attracted me. If you love children's books, or have a favourite from your childhood, join us in introducing them to a new generation of readers.
Tina Lost in a Crowd by Miriam Hurdle, Victoria Skakandi (Illustrator) 
Published April 15th 2021
About the Book: Tina invited her friend Erica to attend a popular Tchaikovsky's Spectacular concert on a summer evening with her parents. During the intermission, her dad left the seat to buy some snacks. Tina and Erica followed him wanting to use the restroom. The shoving crowd pushed them away, and they lost sight of him. It would be impossible to fight through the 18,000 people to find him or go back to Tina's mom. What would the girls do?

This story tells about what happened to Tina and Erica after they got lost. Children can adapt to the learning from different situations they may observe or encounter. Adults could have discussions with the children about the situations to help them develop problem-solving skills. 
---
4.5 Stars:
Tina Lost in a Crowd by Miriam Hurdle is a delightful story! It is summer and Tina is looking forward to her summer before heading into the fourth grade. When she gets home from her last day of school, she and her mom make a list of some of the things Tina wants to do over the summer. Her mother also adds an outdoor concert at the Hollywood Bowl as an upcoming event. Tina wants her friend Erica to go to the concert with her and both sets of parents agree. The take the train to the concert and start the night off with a picnic on the grounds. During intermission, both girls need to use the restroom and they try to catch up to Tina's dad who is getting snacks. Before they know it, they are lost. What should they do?
I read this book to my two oldest grandchildren (5 and 7) and we had some wonderful discussions. We read it straight through the first time, but on the second reading, boy did they open up. We talked about school ending and things they like to do in the summer. Fireworks are a favorite summer activity during the first weekend in July and as a family we go and watch them as well as have a BBQ. Swimming is another wonderful activity and then we talked about outdoor concerts. After all that, I brought them around to discussing what to do if they get lost. The oldest had a lot of ideas involving finding someone in a uniform, finding a mommy or daddy with kids to ask for help and find someone with a ph0ne to call their parents. We discussed what Tina and Erica did and decided that would also work well if mommy and daddy knew what direction they were heading. Even if they chose other options when they get lost, it opened up some great learning moments. The illustrations were wonderful. They are large, colourful and full of emotion and action. They provided wonderful context clues when my grandson read some of the book to us. I definitely recommend this book to families, schools and classrooms (especially before going on a fieldtrip) and public libraries. I always like when the author's note gives insight into where the author's ideas came from to write a book, this one was definitely personal to Miriam. The author provided me with a copy of this book upon request. The rating and opinions shared are my own.
---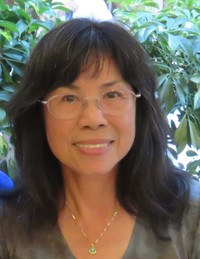 About the Author: Miriam Hurdle is a member of the Society of Children's Book Writers and Illustrators (SCBWI). She published four children's books at twenty-six years old. Her poetry collection received the Solo "Medalist Winner" for the New Apple Summer eBook Award and achieved bestseller status on Amazon.
Miriam writes poetry, short stories, memoir, and children's books. She earned a Doctor of Education from the University of La Verne in California. After two years of rehabilitation counseling, fifteen years of public-school teaching and ten years in school district administration, she retired and enjoys life with her husband in southern California, and the visits to her daughter, son-in-law, and granddaughters in Oregon. When not writing, she engages in blogging, gardening, photography, and traveling.
Social Media: Website – Amazon – Twitter – Facebook