Welcome to my stop on the Audiobook Blot Tour for Beneath the Surface by Mike Martin. This book was first published April 2014. Scroll down to find out more about this book, the author, and narrator. As well, there is a character interview and my review for you to enjoy. Thanks to Jess at Audiobookworm Promotions for my invitation to this tour. This is a series I have been wanting to start for awhile.
Beneath the Surface (Sgt. Windflower Mystery #3) by Mike Martin, Narrated by Francis G. Kearney
Genre: Modern Detective
Published May 14, 2020 by Mike Martin
Length: 10 hours 22 minutes
Synopsis: Beneath the Surface is the third book in the Sgt. Windflower Mystery Series set in Newfoundland on the East Coast of Canada.
Sgt. Windflower is back, and as usual, he's loving life on the East Coast. He may be a long way from his home in Northern Alberta, but he has been adopted by the locals as almost one of their own.
He has a good life, good work with the RCMP, and a good woman that he has grown closer to in his years on the southeast coast of Newfoundland.
But trouble is brewing just beneath the surface of this calm and charm-filled existence.
---
4 Stars: ⭐⭐⭐⭐
This is the third book in the Sgt. Windflower Mystery, but the first I have read or listened to. I did enjoy it and had no problem following this story. Having said that, I still want to go back and read or listen to the first two in the series. The main thing that attracted me to this series is that Sgt. Windflower is a member of the RCMP, so being Canadian, I wanted to read this series.
In this book, Windflower has returned to his home of Grand Bank on the southeast coast of Newfoundland. When the body of Amy Parsons, a champion rower is found, the quiet, serene atmosphere of the Newfoundland town is shattered. With the help of Corporal Eddie Tizzard and Herb Stoodley, a former Crown Attorney, Windflower sets out to solve the crime. As he investigates, he finds that this crime might be part of an interprovincial crime group involving trafficking and the sex trade. It seems some people do not want this case investigated, who is involved in this scandal?
There were several interesting storylines to this book. I enjoyed the mystery and seeing how the investigation played out. There were just enough clues, with a few red herrings to keep me invested in the story. I pretty much figured out what was happening as far as the crime, but who was involved, how deep did it go and how was it all going to work out had the story flowing well. I was quite interested in the stories relating to the Indigenous People. There were dreams that had to be interpreted and other information about how the indigenous people lived and how their lives had changed over the years. There is also a personal storyline involving Windflower and his girlfriend, Sheila Hilliard, which adds the human element to the story. There were other secondary characters in the story that also added to the story and moved the plot along. This was a slow building mystery, not action packed and dramatic, but still very interesting. This story is about community, policing, with a large dose of Canadian culture. If you have never been to Newfoundland, you will definitely want to go after reading this one, as the descriptions were wonderful. This is the only province in Canada that I have not been to, and I really hope to remedy that soon. An enjoyable book that I recommend to those who want to read a mystery that takes place in another country.
I listened to the audiobook narrated by Francis G. Kearney. I had a bit of a hard time getting used to his voice. It was loud and at times I felt like he was shouting at me. However, once I got into the story, I grew accustomed to this style and kept the volume a bit lower. I did enjoy his accents and expression. As most of the characters were male, he was able to give them individual voices. The pacing was also well done. Overall, he did a good job with this story and I now have a picture of Windflower, Tizzard and Stoodley in my head. I received a copy of this book from Audiobookworm upon request. The rating, ideas and opinions shared are my own.
Character Interview: Sgt. Windflower
How old are you and what do you do for a living?
I am an RCMP officer, a Canadian Mountie. I'm a Cree from Northern Alberta who is stationed in a small fishing community on the east coast of Canada, called Grand Bank.
What would I love the most about you?
I think you would love my honesty and basic decency. I try and treat everyone and everything with respect. Somebody once called me the 'nicest Mountie' in Canada.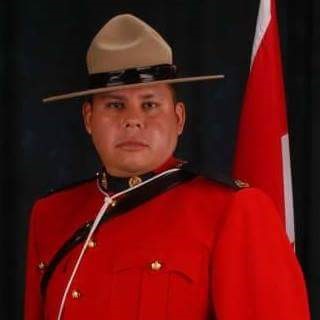 What makes you laugh out loud?
Eddie Tizzard, my long-time friend and side-kick always makes me laugh. He has these funny sayings that all Newfoundlanders use that make no sense at all, and he is a true innocent in the world. That makes him a joy to be around. I smile every time I see him, and as soon as he opens his mouth, I almost always start laughing.
What is your most treasured possession?
My most treasured possession is an eagle feather than once belonged to my grandfather who was the chief of my nation. I use it to smudge in the morning. Smudging is part of my spiritual traditions. You light a bowl of sacred herbs and medicines and then use the feather to pass the smoke over your heart, your head and your body.
Do you think the author portrayed you accurately?
I think so. Sometimes he screws up and gets things a bit wrong, but then I give him a gentle nudge to help him get back on track. I wish he wouldn't always be pointing out my faults, especially to the love of my life, my wife, Sheila Hillier. She loves that.
What is your idea of a perfect day?
A perfect day for me would be a run with Lady, my dog, in the morning. Then breakfast with my daughter, Amelia Louise and my wife, Sheila, followed by an afternoon spent picking blueberries. I love the quiet, meditative act of picking berries. Plus, Sheila might make a blueberry buckle for dessert later. The perfect ending would be an evening in with Sheila and some special time together, if you know what I mean.
What are three must haves when shopping at the grocery store?
Bread, home-made or a fresh baquette. Cheese, several varieties including hard and soft and if they have it, a Stilton with mango pieces. I could eat the whole thing in one sitting. And some fresh fruit, whatever is in season is the best.
Who is your best friend?
I have three best friends. Eddie Tizzard who I describe above. My wife and confidant, Sheila Hillier who I trust with my life. And Lady, my collie who truly is this Mountie's best friend.
Do you like to cook? If so, what is your favorite thing to cook?
I love to eat. But I also love to cook. My specialty since I came to Grand Bank is pan-fried cod with something called scrunchions. They are small pieces of fat-back pork that are fried to a crisp and sprinkled over the top of the perfectly browned cod fish. I'm hungry just thinking about it. Aren't you?
Will you ever leave Grand Bank?
You'll have to keep reading the books in the Sgt. Windflower Mystery series to find out. I love it here, but Mounties often get transferred and I'm not sure Sheila like the idea of being married to a policeman forever. So, changes will come, but for now I love the salt breeze in my hair and the sun rising and setting over the ocean.
About the Author: Mike Martin was born in Newfoundland on the East Coast of Canada and now lives and works in Ottawa, Ontario. He is a long-time freelance writer and his articles and essays have appeared in newspapers, magazines and online across Canada as well as in the United States and New Zealand. He is the author of Change the Things You Can: Dealing with Difficult People and has written a number of short stories that have published in various publications including Canadian Stories and Downhome magazine.
The Walker on the Cape was his first full fiction book and the premiere of the Sgt. Windflower Mystery Series. Other books in the series include The Body on the T, Beneath the Surface, A Twist of Fortune and A Long Ways from Home, which was shortlisted for the Bony Blithe Light Mystery Award as the best light mystery of the year. A Tangled Web was released in 2017 and the newest book in the series.is Darkest Before the Dawn which won the Bony Blithe Light Mystery Award as the best light mystery of the year.
Mike is currently Chair of the Board of Crime Writers of Canada, a national organization promoting Canadian crime and mystery writers.
About the Narrator: Francis G. Kearney
Following college and many years as a local entertainer and actor I eventually entered the business world and a career of building and selling multiple successful enterprises.
In 1985, I purchased an aviation business and while building a very successful business also earned multiple movie credits as a helicopter camera ship pilot among other services, and flew the camera helicopter for London Weekend Television's mini series "Piece of Cake" in 1988. I have an extensive aviation background from helicopters through turboprop and jet aircraft, and a deep knowledge of all things aviation.
I have always been an insatiable reader with a love of history – the ultimate story, and anything military – especially if it flies. My evolution into narration and the joy of storytelling is the culmination of many years of a life fully lived, and is reflected in a voice of experience.