Winterdream: A Retelling of The Nutcracker by Chantal Gadoury, Anne Marie Lewis (Narrator)
Published December 31st 2019 by  The Parliament House
Length: 10 hours 22 minutes
Genre: Young Adult Fantasy
Synopsis: This Christmas Eve, no creature was stirring, except, maybe, a mouse. At long last, can true love break the Nutcracker's curse?
For Clara Stahlbaum, this Christmas means the end of her youth. A daughter of the aristocracy, Clara is expected to give up her dreams of adventures and the extraordinary for more normal days as the wife of a cruel viscount.
But when magical Uncle Drosselmeyer returns with his wondrous, dancing contraptions, and one…special gift for Clara, she is beckoned to the land of Winter Dream, where she is thrust into the greatest adventure of her wildest dreams. But will she be able to break the Nutcracker's curse?
Uncle Drosselmeyer's apprentice, Anton, is handsome as he is mysterious. But what is it about him Clara finds so alluring?
Winter Dream is a phenomenal retelling of The Nutcracker from the eyes of Clara Stahlbaum with all the magic of the Holiday season. If you loved S. Jae-Jones' Wintersong, you'll fall in love with this stunning tale of love, war, redemption, and Christmas magic.
---
4.5 Stars: 
Many people are familiar with the story of The Nutcracker by Alexandre Dumas, or various translations of the story. If you have never read the book, you may have seen the ballet or a televised version of the story. This is a retelling of that story, told from Clara's point of view. The location is changed to Russia, but the story basically follows the plot I am familiar with, but with several twists. Clara still received a nutcracker from her uncle, but she is a bit older and is being pursued by Viscount Yakov Petryaevy, a Russian nobleman who wants Clara for his wife. Clara is outspoken, has advanced views about roles of women, and wants to marry for love. Enter Anton, her uncle's apprentice and The Nutcracker. Will Clara be able to save The Nutcracker, WinterDream and defeat the Mouse King. If you know the story, you know the answers, but this is a magical story that I thoroughly enjoyed listening to and arriving at the finale.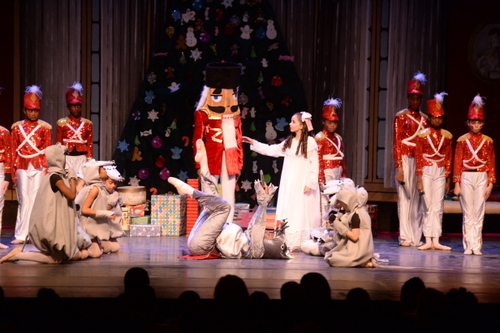 I loved the Clara character. She is capable, yet also needs help at times. She's real, relatable, and smart. She has a conscience and cares about people. She wants to help and save them, but knows she can't do it alone and is not afraid to ask for help. The Nutcracker also wants to save WinterDream and knows that Clara is the one that can help him do that. He is willing to deal with the scorn from many to do what is necessary.
The world of WinterDream seems beautiful, but was not as developed as I would have liked. Having said that, I could picture many parts of it. The romance is sweet. It is instalove, but is not acted upon which I liked. It is the love that drives Clara to do what she does, even putting herself in danger. This was a well-written and paced story that pulled me in from the first page and held me there until I finished. A beautiful retelling of a beautiful story.
WinterDream was published in 2018, but was recently released as an Audiobook. When I was offered the chance to listen and review it, I jumped at the chance. The narrator Anne Marie Lewis, did a wonderful job with this story. I enjoyed her expression and the voices she gave various characters. I listened to the story at normal speed until I became comfortable with the voice and story, then I sped it up to 1.3 which was perfect for me, especially as the action ramped up. This is the first book I have listened to narrated by Anne Marie Lewis, but I would not hesitate to listen to others she performs. I received a copy of this book upon request from Audiobookworm. The rating, ideas and opinions shared are my own.
About the Author: Amazon Bestselling Author, Chantal Gadoury, is a 2011 graduate from Susquehanna University with a Bachelor's Degree in Creative Writing. Since graduation, she has published The Songs in Our Hearts, and The Songs We Remember, with 48Fourteen Publishing. Allerleirauh, Between the Sea and Stars, Blinding Night and WinterDream with the Parliament House Press. Chantal first started writing stories at the age of seven and continues with that love of writing today. For Chantal, writing novels has become a lifelong dream come true! When she's not typing away at her next project, she enjoys painting, drinking lots of Iced Coffee, and watching Disney Classics. Chantal lives in Muncy, Pennsylvania with her Mom, sister and furry-'brother' Taran.
About the Narrator: Singer and actor Anne Marie Lewis has enjoyed a richly varied and long career in the performing arts.  She has performed across the globe from Carnegie Hall to Boise to Little Rock to Michigan's Upper Peninsula as well as in Canada, England and Scotland.  Chicago area credits: My Fair Lady, Peter Pan, Into the Woods (Music Theater Works); 1776 (Porchlight Music Theater); Midnight Cowboy (Lifeline Theatre); Northanger Abbey, The Skin of Our Teeth (Remy Bumppo); Love, Loss and What I Wore (Oil Lamp Theater); bare (RefugeTheatre Project); Graveyard of Empires (16th Street Theater); Jake's Women (Spartan Theatre); The Scullery Maid (Idle Muse Theatre);  Moon Over Buffalo (Jedlicka Performing Arts Center); The Diary of Anne Frank (Metropolis Performing Arts Center); The Merry Wives of Windsor (Fury Theatre); Fancy Nancy, Elephant and Piggie (Northbrook Theater); Little Red Riding Hood, Camp Wonderland (Theatre at the Center), Don Giovanni, Shining Brow (Chicago Opera Theatre); Pride and Prejudice, The Sound of Music, Hansel and Gretel, Persuasion, Cosi fan tutte (Chamber Opera Chicago); Gianni Schicchi (DuPage Opera); La boheme, Die Fledermaus, Don Pasquale,  Don Giovanni, Carmen (Opera Studio Highland Park).  Regional credits: Die Fledermaus, Le nozze di Figaro (Pine Mountain Music Festival), Little Women (Lyric Opera Cleveland), La boheme (Quad Cities Opera, Arkansas Symphony, Battle Creek Symphony); Mozart Requiem, Schubert Mass in G (Carnegie Hall).  International credits: Persuasion (Edinburgh Fringe Festival, Camden Fringe Festival, Buxton Fringe Festival, Victoria, BC).  Anne Marie, a Pittsburgh native, is a proud graduate of the University of Notre Dame and Northwestern University.  She maintains a private voice studio and has recently entered the wonderful world of audiobook narration and production, with fifteen titles to her credit.