The Forgiving Jar (The Prayer Jars #2) by Wanda E. Brunstetter 
Published February 1st 2019 by Shiloh Run Press
Published February 1st 2019 by Oasis Audio
What would happen if you found out someone has been impersonating you?
Sara Murray had never met her mother's parents and was surprised to learn after her death that they were Amish living in Pennsylvania. When she is finally able to make the trip to meet them, she is shocked to learn someone else has been living with them and pretending to be Sara. Sara can't understand how quickly her grandparents are willing to forgive the imposter.
Secrets and deceit seem to follow Sara, and she is so tired of it. Though soon she meets Brad Fuller who is visiting her grandparents for during Christmas. She likes him a lot, but even he seems to pull away from her, not being totally honest.
Struggling, Sara finds an old canning jar hidden in the barn that is full of encouraging prayers. Can Sara find a way to forgive the past and move on to building new relationships?
---
This is the second book in The Prayer Jars series. I recommend you read the first book before this one as it sets the stage for the continuing story. Michelle and Sara, have lived vastly different lives, not only from one another, but also from the Amish community where they are both living in this story. After getting to know Michelle in the first book, I really like her, but Sara is another story. She is spiteful, unforgiving, judgmental and not very easy to like. Both Sara and Michelle are living with Sara's grandparents in their Amish Community, associating in church, work, and social events with the Amish they see and envy the peace that they have. Michelle is ready to be part of the community permanently, has fallen in love with an Amish man and is taking classes to become baptized. Sara is sure that Michelle is after something and this seems to harden her heart towards her. You will need to read this story to see what happens to both of these ladies as well as how the Prayer Jars help them out.
I will say that I did not enjoy this book as much as The Hope Jar. This one was more "preachy" and harder to get involved in, however it was still a very enjoyable read. I also listened to the audiobook and the voice the narrator gave the character of Sara came across as whiny, which might be why I had a hard time connecting to her. Having said that, there are sweet romances in this story and they had a bumpy road at times. There is also some sadness surrounding Sara's life.The main theme in this story is the need for and the act of forgiveness. Realizing that forgiveness is not just for others, but for our own redemption, to clear hate from our hearts. Wanda Brunstetter writes books that are clean, gentle stories filled with Christian beliefs where flawed characters are given the opportunity to believe and sort out their lives. This is another winner that her readers will enjoy.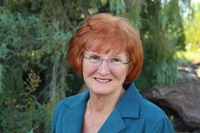 About the Author: New York Times bestselling and award-winning author, Wanda E. Brunstetter is one of the founders of the Amish fiction genre. She has written close to 90 books translated in four languages. With over 10 million copies sold, Wanda's stories consistently earn spots on the nations most prestigious bestseller lists and have received numerous awards.
Wanda's ancestors were part of the Anabaptist faith, and her novels are based on personal research intended to accurately portray the Amish way of life. Her books are well-read and trusted by many Amish, who credit her for giving readers a deeper understanding of the people and their customs.
When Wanda visits her Amish friends, she finds herself drawn to their peaceful lifestyle, sincerity, and close family ties. Wanda enjoys photography, ventriloquism, gardening, bird-watching, beachcombing, and spending time with her family. She and her husband, Richard, have been blessed with two grown children, six grandchildren, and two great-grandchildren.
To learn more about Wanda, visit her website at www.wandabrunstetter.com.