I read this book last month and as I was updating my challenges for 2019, realized that I never posted my review for this one, so here goes.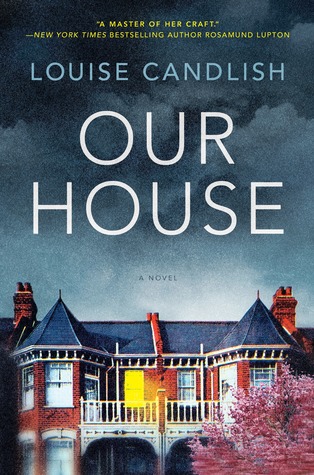 Our House by Louise Candlish (Author), Elizabeth Knowelden (Narrator), Elliot Hill (Narrator)
Published August 7th 2018 by Berkley, Penguin Audio
On a bright January morning in the London suburbs, a family moves into the house they've just bought in Trinity Avenue. Nothing strange about that. Except it is your house. And you didn't sell it. 
When Fiona Lawson comes home to find strangers moving into her house, she's sure there's been a mistake. She and her estranged husband, Bram, have a modern co-parenting arrangement: bird's nest custody, where each parent spends a few nights a week with their two sons at the prized family home to maintain stability for their children. But the system built to protect their family ends up putting them in terrible jeopardy. In a domino effect of crimes and misdemeanors, the nest comes tumbling down.
Now Bram has disappeared and so have Fiona's children. As events spiral well beyond her control, Fiona will discover just how many lies her husband was weaving and how little they truly knew each other. But Bram's not the only one with things to hide, and some secrets are best kept to oneself, safe as houses.
---
Can you imagine coming home one day to find strangers moving into your home, and all of your belongings are gone? Well, that's exactly what has happened to Fiona Lawson in "Our House". She is confused as she didn't sell her house. Prior to this, Fiona and her soon to be ex-husband, Bram have been sharing custody of their boys, as well as their house at 91 Trinity Avenue. Whoever's turn it is to be with the children stays in the house with them while the other parent stays somewhere else. It's a fairly new and unique way of doing things, called " Bird's nest custody". Fiona has no idea what's going on and she cannot contact Bram. His phone is out of service and she has no way to reach him. Where is he and worse, where are her children? What happens next is rather unbelievable, but this is fiction so just go with it.
This was a very interesting story as well as a very unique way to tell it. There were alternate POVs from Fiona (Fi) and Bram as well as a podcast called "The Victim" that Fi participates in, and responses from listeners. After awhile, this became a bit tedious to me and I would have been fine if it had not continued throughout the story. I felt really bad for Fiona as this story unfolded. Bram made some mistakes and then was not man enough to face up to the consequences. He is an unlikable and unreliable narrator. His point of view is told through Word Documents. This was an interesting domestic thriller told using a very different format that had me breezing through some sections, and wanting to fast forward through others. However, when things picked up in the final third of the story, I was riveted. For the most part, the twists were well done and I enjoyed the story. I listened to this book and was pleased with the narration. I like when there are both male and female narrators in a story rather than trying to do voices for both sexes.
About the Author: Louise Candlish studied English at University College London and worked as an editor and copywriter before writing fiction. OUR HOUSE, published in the US by Berkley and by Simon & Schuster in the UK, has been picked as a Book of the Year by the Guardian, the Daily Mail, the Washington Post, Publishers Weekly, Real Simple, Red and Heat.
Louise lives in South London with her husband and daughter. Follow her day to day on Twitter at @louise_candlish or get updates at www.louisecandlish.com