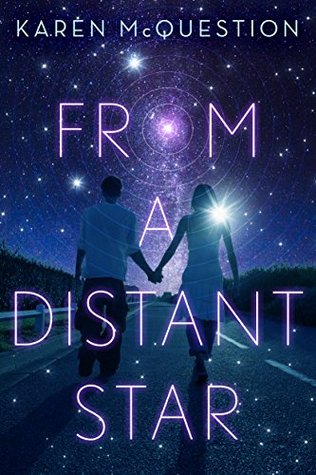 From a Distant Star by Karen McQuestion
Published May 19th 2015
Skyscape, Kindle Edition, 256 pages
Brilliance Audio, 8 hours and 24 minutes
When Lucas Walker inexplicably recovers from a terminal illness, everyone is astonished –except for his girlfriend Emma, who never gave up hope. However, as friends and family celebrate the miracle, Emma becomes alarmed: Lucas has changed. He speaks haltingly, can't recall past events, and even his own dog doesn't recognize him. Emma begins to suspect something is terribly wrong. What happened to the Lucas she loved? Does his strange behavior have something to do with the shooting light that fell into Lucas's backyard the night he recovered?
As the two set off on a road trip in search of the truth, the journey takes an unexpected turn. First they're shot at by unknown enemies and then helped by unlikely allies. Before long, Emma and Lucas are plunged into a desperate life or death race against time.
Packed with intrigue and emotion, FROM A DISTANT STAR is a riveting novel about loyalty and the power of love.
---
This is an updated E.T. story that is described as a YA Fantasy/Sci-Fi. It is a cute, story with some Sci-Fi, romance and fantasy thrown in. Emma is in love with her boyfriend Lucas. Lucas is dying from Cancer. Emma will do anything to save Lucas, so she visits the town witch and gets a potion to cure him. As she is administering the potion, there there is a crash outside on Lucas' family farm. It seems that an alien spaceship has blown up and a pod has landed in their field. A tiny alien being hides out in the body of the family dog and that night, enters Lucas. After this, Lucas begins to feel better until he is miraculously cured. This is where the E.T. comparison comes in. Scout (the name they give the alien) just wants to go home. The government, wants to find whatever landed on earth. What follows is a hide & seek, chase, and problem solve to help Scout go home, and Lucas to be returned to control of his body.
This was a well-written, engaging story. It was well-paced and I easily finished this story in one day. The characters were well-developed and likeable. We really don't meet Lucas until the end of the story because he is in a coma at the beginning and then "Scout" takes over his body and that is the character that Emma is interacting with. The story is told from both Emma's and Scout's point of view. Emma is a daring girl, who has a strong determination to not to give up on her dying boyfriend. It seems that he is the only thing in her life at the time and she is devoted. Once he is cured, Emma knows that something is different and once again, is determined to figure our what is wrong with Lucas. Scout, is trying to survive. Once he has a host body, he needs to adjust to life on earth as he does not know if he will ever be rescued. I loved watching the relationship between Emma and Scout grow. Emma becomes more empathetic and open to what Scout needs and wants. She will do what she can to rescue both Scout and Lucas. The adventure in this book, stems from the government authorities trying to capture Scout. The cat and mouse chase scenes with the authorities are action scenes, but there is also some humor there. When Scout lets the oil go from the moonshiners truck, it is a bit like the Keystone Cops. The showdown that Scout and Emma are involved in to reunite him with his spaceship is exciting to read, and the author did a wonderful job describing those scenes.
I listened to this book and really enjoyed it. The narrator did a good job with most of the voices, but throughout most of the book, Scout sounded like a robot, which was my one complaint about the narration. Overall, the book is like an adventure trip taken with an alien in a human body across the state of Wisconsin. It is a fun story with some emotion, adventure, romance and humor. This was a light science fiction/fantasy story that could be enjoyed by both young and old adults.
About the Author: Karen McQuestion is the bestselling author of books for all ages. Some of her titles include Hello Love, Life on Hold, The Long Way Home, and the Edgewood series. Her publishing story has been covered by the Wall Street Journal, Entertainment Weekly, and NPR. She has also appeared on ABC's World News Now and America This Morning. McQuestion lives in Hartland, Wisconsin.
Website: www.karenmcquestion.com