Published June 5th 2018 by Berkley, Published June 5th 2018 by Dreamscape Media
I wanted to read this book after reading several reviews for it. It was funny, romantic and touching according to others. I agree with the romantic and touching, but did not find it humorous. Perhaps because I have worked with many people who have aspergers or high-functioning autism. I really enjoyed this story. I fell in love with Stella, she's beautiful, smart and witty. When she wants to do something, she takes the bull by the horns, so to speak, in order to achieve her goals. She doesn't expect to get emotionally involved. Michael is kind and gentle, as well as being a hired escort. He is doing business, he doesn't expect to become emotionally involved either. Well best laid plans and all . Both of these characters are hiding something, Stella, her autism and Michael, his past and the family situation that forced him into life as an escort.
As the story progresses, I was rooting for Stella and Michael to let their feelings dictate their next steps. Both of them thought the other was not interested, which is a trope that can be overdone, but with the story written the way it was, it was believable. Reader beware, it definitely has some very steamy scenes, afterall Stella wants to learn about sex and Michael is an experienced escort. It is a YA book, but definitely geared to older youth due to the explicit scenes. I listened to the audiobook and enjoyed the narration. Carly Robins did a great job with the characters giving them all just enough voice to let their personalities shine through. Overall, this was a fun story with a happy ending and if you like audiobooks, then I recommend you listen to this one.
About the Author: A heartwarming and refreshing debut novel that proves one thing: there's not enough data in the world to predict what will make your heart tick.
Stella Lane thinks math is the only thing that unites the universe. She comes up with algorithms to predict customer purchases — a job that has given her more money than she knows what to do with, and way less experience in the dating department than the average thirty-year-old.
It doesn't help that Stella has Asperger's and French kissing reminds her of a shark getting its teeth cleaned by pilot fish. Her conclusion: she needs lots of practice — with a professional. Which is why she hires escort Michael Phan. The Vietnamese and Swedish stunner can't afford to turn down Stella's offer, and agrees to help her check off all the boxes on her lesson plan — from foreplay to more-than-missionary position…
Before long, Stella not only learns to appreciate his kisses, but to crave all the other things he's making her feel. Soon, their no-nonsense partnership starts making a strange kind of sense. And the pattern that emerges will convince Stella that love is the best kind of logic…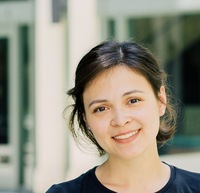 About the Author: Helen Hoang is that shy person who never talks. Until she does. And the worst things fly out of her mouth. She read her first romance novel in eighth grade and has been addicted ever since. In 2016, she was diagnosed with Autism Spectrum Disorder in line with what was previously known as Asperger's Syndrome. Her journey inspired THE KISS QUOTIENT. She currently lives in San Diego, California with her husband, two kids, and pet fish.