HAPPY SPRING, First Day of Spring
INTERNATIONAL DAY OF HAPPINESS
March 20 is the International Day of Happiness and this year's theme is Happier Together, focusing on what we have in common, rather than what divides us.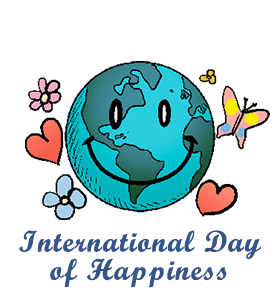 Happy Birthday to Louis Sachar, Lois Lowry, Bill Martin
One of my favourite Children's Authors. He wrote the Sideways Stories which my kids at home and school loved. He is probably most  well known for Holes. His most recent book is Fuzzy Mud.
Lois Lowry was another author that the kids at school enjoyed, especially when I did a read aloud. One of her books that I have read several times is The Giver. It is the first in a series of four, but I have only read the first two.
Unfortunately, Bill Martin has passed, but his children's books will be around forever. Who hasn't read or recited, Brown Bear, Brown Bear, What Do You See? It is definitely one of my grandchildren's favourite books along with Chicka Chicka Boom Boom. If you have not read a Bill Martin book, it is not too late.
https://billmartinjr.com/bill_martin