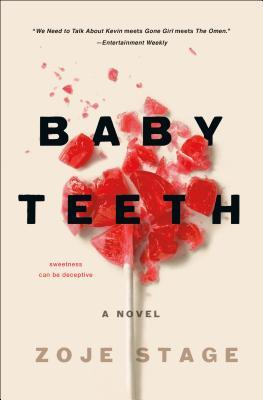 3.5 Stars
Published July 17th 2018 by St Martin's Press
I finished this book last night and am still not sure what rating I should give it. This was not a book that I liked the story, but I couldn't stop reading it. I wanted to find out what was going to happen, so that means it should be rated higher. This is supposed to be a thriller, but I did not find it a thriller, I found it a horrific, creepy, family drama. This is the story of Hannah and her parents. It is told from the viewpoints of seven year old Hannah and her stay-at-home mother, Suzette.
Hannah is a beautiful young girl who refuses to speak. She will growl, grunt and scream, but will not form words. When Dad is home, she is smiley and delightful. When he's at work, she does her best to make her mom's life a living hell. Hannah is home-schooled because no school will keep her. She snarls and growls at the students and teachers, hurts other children and has even started fires. Suzette has her own problems. She has Crohn's Disease and has symptoms, surgeries and a lot of anxiety and emotional baggage. She is worried that it is her fault that Hannah is the way she is and that guilt is not helping anyone. When Hannah begins to act even more strangely, as well as trying to hurt her mother, something needs to be done.
This is not a fun read. It's hard to imagine a child who hates her mother so much. Children normally love their parents no matter what so this is hard to wrap your head around. The fact that we don't know why Hannah feels the way she does makes it even more powerful. It reminds me a bit of the horror movies I watched when I was younger. I found the book to be well written, but it is a tense and disturbing read. My biggest complaint is the ending. It seems that there might be a sequel to this one based upon the ending and I am not a big fan of being left hanging. If you're in the mood for a thrilling, yet horrific family drama, then this is the book for you. The publisher generously provided me with a copy of this book upon request. The rating, ideas and opinions stated are my own.
About The Book: Sweetness can be deceptive. 
Meet Hanna. She's the sweet-but-silent angel in the adoring eyes of her Daddy. He's the only person who understands her, and all Hanna wants is to live happily ever after with him. But Mommy stands in her way, and she'll try any trick she can think of to get rid of her. Ideally for good.
Meet Suzette. She loves her daughter, really, but after years of expulsions and strained home schooling, her precarious health and sanity are weakening day by day. As Hanna's tricks become increasingly sophisticated, and Suzette's husband remains blind to the failing family dynamics, Suzette starts to fear that there's something seriously wrong, and that maybe home isn't the best place for their baby girl after all.
About the Author: Zoje Stage is a former filmmaker with a penchant for the dark and suspenseful. Her debut novel BABY TEETH, published in July 2018, was a USA Today bestseller, a People Magazine "Book of the Week", and voted by Barnes & Noble and Bloody Disgusting as one of the best horror books of 2018. It was published in the UK under the title BAD APPLE, and will soon be available in more than a dozen countries. She lives in Pittsburgh, PA.