Published November 13th 2018 by Zondervan
A Seat by the Hearth is the third book in the Amish Homestead series by Amy Clipston, and I was sorry to see this series end. In this story we meet Priscilla Allgyer. Priscilla left the Amish Community and Faith years ago after enduring years of verbal and emotional abuse from her father. She is now returning, an unmarried mother and physically abused woman. Her mother is thrilled with her return and meeting her grandson, her father is not. He is cold, distant and once again demanding. He tells her that she can stay in his home with conditions. She must return to her Amish ways, wear Amish clothes, confess her sins in front of the church, attend classes and find a suitable Amish husband, quickly. Verbally, she agrees, but in her heart, she wants to learn to stand on her own two feet before becoming dependent on a man again.
The characters were well-developed and most were enjoyable. Priscilla was trying to be a strong woman and good mother to her son. Ethan was a delight. A little boy who found happiness in new things and people. He was innocent and wanted to get to know his new family. Her parents were not what I would have expected from an Amish family. Her father was not forgiving and loving, but cold and demanding. I was glad to see that he finally sees the error of his ways by the end of the book. Mark Riel, Priscilla's old friend was a great match for her. He was strong, upstanding and struggling with his future as well. I kept reading to see if Mark would be able to convince Priscilla that she wasn't damaged and deserved to find love. All of her characters feel genuine and relatable and you will find yourself cheering for them; that they will work out their problems and find happiness. This story is full of emotion such as grief, loneliness, heartbreak, and love. At times I was angry with some of the characters. Once I started this book, it was hard to put it down. I read it in one day, neglecting other things I should have been doing. If you enjoy Amish Fiction and Romance, especially if you like Amy Clipston, then you don't want to miss this book or series. I am glad I didn't.
About the Book: Priscilla Allgyer knows she cannot leave the past behind. But can love lead her toward the promise of healing? 
Priscilla Allgyer left the community to escape the expectations of Amish life. Now, years later, she is forced to return—along with her six-year-old son—to the place she thought she'd left behind forever. Though once estranged from her family, Priscilla is welcomed by her mother, but her father is cold and strict. He allows Priscilla to stay with them provided she dresses plainly, confesses her sins, and agrees to marry within the community. Once again, she feels suffocated, trapped, and alone.
As Priscilla reluctantly completes her shunning, she catches the eye of Mark Riehl, a farmer with a playboy reputation. Wary of Mark, Priscilla barely gives him the time of day—while Mark, unused to being ignored by the women of Bird-in-Hand, won't give up the pursuit of her friendship. Priscilla desperately needs a friend in Mark, even if she doesn't realize it—and after Priscilla's father and the bishop catch her and Mark in a compromising situation, their relationship becomes more complicated than ever.
As affection quietly grows between them, Priscilla struggles to open her heart and reveal the painful secrets of her past. As Mark works to earn her good faith, can they both learn the hard lessons of love and trust? And can two friends discover a happiness that only God himself could have designed? The third book in the Amish Homestead series, A Seat by the Hearth invites us back to the Lancaster community where friendships are forged and love overcomes all.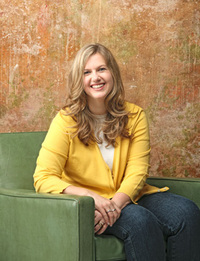 About the Author: Amy Clipston has been writing for as long as she can remember. Her fiction writing "career" began in elementary school when she and a close friend wrote and shared silly stories. She has a degree in communications from Virginia Wesleyan College and is a member of the Authors Guild, American Christian Fiction Writers, and Romance Writers of America. She is the author of the bestselling Kauffman Amish Bakery series with Zondervan, which is part of HarperCollins Christian Publishing. An advocate for organ and blood donation, Amy donated a kidney in 2011 at Johns Hopkins Hospital. Through her donation, her husband received a second kidney transplant. Amy and her husband matched another couple and swapped kidneys with them. Amy's memoir, A Gift of Love, will be available in early 2014. She hopes her story inspires others to become organ and blood donors. Amy lives in North Carolina with her husband, two sons, mother, and four spoiled rotten cats. You can find her on the web at http://www.AmyClipston.com or on Facebook at http://www.facebook.com/AmyClipstonBooks