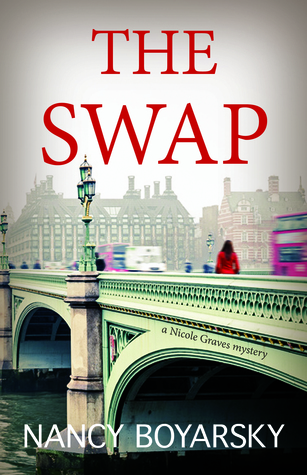 3.5 Stars
Published February 7th 2017 by Light Messages Publishing
Nicole and her husband Brad have arranged a house swap for the summer while Brad is working in London. Brad did not want Nicole to go with him on this trip, but she convinces him to allow her to accompany him to London. She has a list of all the things she wants to do when she arrives in London and Brad is at work. That doesn't happen. First, the London couple never arrive at Nicole and Brad's house in LA, someone breaks into the home where they are staying, and Nicole is threatened by two thugs in a local museum. The trouble does not stop there. The police aren't very helpful and neither is Brad who seems distracted by work so Nicole is left to work out what is happening herself.
This is the classic house swap gone bad. It is also an engaging mystery with plenty of twists and turns, some classic bad guys and a handsome undercover cop. Also plenty of action with kidnappings and explosions as Nicole inadvertently gets mixed up with some very nasty criminals. Unfortunately, this book has a few niggles for me. There is too much happening involving a person who does not know the country at all. She is very naive and tends to believe what she is told by people she doesn't even know. She takes huge chances and travels all over the United Kingdom, being chased and followed. At now time does she go to the U.S. embassy, which pretty much anyone would do when the police do not give you much help. I am looking forward to the next book in this series to see if these things change and become a bit more believable as I really did like this gutsy amateur investigator. I listened to this book and the audio was quite well done. This quote from the author about the narrator says it all, "Jane Oppenheimer narrated my two mystery books for Audible, and I'm thrilled with the results. Not only does she have a beautiful and expressive voice, she's able to convincingly switch to credible male voices and assume foreign accents. I highly recommend her."
About the Book (From Goodreads): The Swap begins when Nicole Lewis, young woman living in Los Angeles, arranges a summer-long swap of her condo for a London couple's house. She thinks it's the perfect arrangement. She's always dreamed of seeing the real London, not just the tourist spots. She'll be able to accompany her husband, Brad, on his out-of-town work as a trouble-shooter for his company. It will also give her a chance to keep an eye on Brenda, Brad's assistant, who seems to be getting a little too chummy with her boss. But things don't turn out the way Nicole expects. Within a couple of days, she discovers that Freddy and Muriel Lowry, the Londoners, failed to arrive in L.A. and appear to be missing. Then people start following
her and making threats, demanding information she doesn't have. Nicole realizes she's in serious trouble. But she can't get Brad—busy working—or the police to believe her. Somehow, it's up to her to extricate herself from the mess the Lowrys have left behind.
About the Author: The Swap is Nancy Boyarsky's debut novel and the first of the Nicole Graves Mystery series. Her second and third novels in the series, The Bequest and Liar Liar, are also available online and in bookstores.
Nancy's books have been compared to Mary Higgins Clark and are praised for contributing to the "women-driven mystery field with panache" (Foreword Reviews) as well as for their "hold-onto-the-bar roller coaster" plots (RT Book Reviews).
Nancy has been a writer and editor for her entire working career. In addition to her writing career, she was communications director for political affairs for ARCO. To find out more about Nancy Boyarsky or her books visit her website at:http://www.nancyboyarsky.com
About the Narrator: Jane is a professional actress and audiobook narrator and can be heard on numerous Audible books. She holds a BFA in Theater from Carnegie-Mellon and has worked on stage in New York, Chicago and Los Angeles. Her voice-over work can be heard on commercials as well as corporate campaigns and short documentaries. Ms. Oppenheimer is equipped with a state-of-the -art home recording studio featuring a Neumann TLM103 mic and RME interface. Jane also narrates under the name of Kathryn Clark.
To find out more about Jane and the books she narrates, visit her website at http://www.janeoppenheimervoice.com/