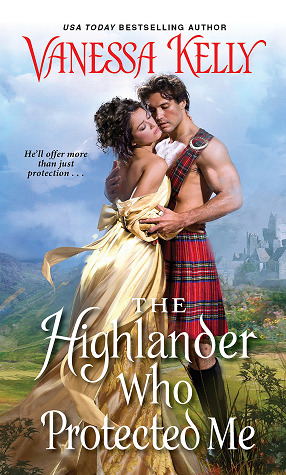 4.5 Stars
Published October 30th 2018 by Zebra
This book is listed as the first in a series, but unfortunately for many readers, this was a spinoff from another series where these characters are introduced and their back story takes place. There was a short introduction to the story where some of that backstory is shared, so I was okay with this book, but others did not feel the same way.
Ainsley is engaged to the Marquess of Cringlewood, but detests him and wants to break the engagement. Apparently he raped her and she became pregnant. She has run away to a Scottish estate, belonging to her aunt to have her child. She knows Royal Kendrick from the past and they have a trusting relationship, so she summons him to the estate and asks him to take her daughter and raise her as his own. He agrees, so she returns to her home, leaving her daughter behind. Royal is healing from horrible wounds, both physical and emotional, from war and throws himself into raising "his daugher". It doesn't take long for Ainsley to realize that she can't live without her daughter so she heads to Kendrick Keep and tells Royal she wants to marry him. Royal has been in love with Ainsley for years so he agrees, even if the marriage is in name only. The marriage has a real chance, given Royal's incredible patience with Ainsley, but, her parents and her former fiancé refuse to back down and let her live her life in peace.
I really enjoyed this story. You had the brooding, wounded hero, hopelessly in love, the love interest who is trying to do what is best and has her own wounds to deal with and a child who is loved by them both. I enjoyed the banter between these two as well as between them and Royal's family. There is some action, humour, drama and romance. I really enjoyed Royal's grandfather. He was sassy and not accepting of Ainsley, but when push comes to shove, he puts his life on the line for her and the bairn. Once again, you had the villains who you were supposed to dislike and dislike them I did. There are some triggers in this story (rape, war) but I believe the author handled them well without giving graphic details. The story was well-written and moved at a good pace. I am ready to visit the Scottish Highlands again and see what is next for the Kendrick Clan. The publisher, Zebra, generously provided me with a copy of this book to read upon my request. The rating, ideas and opinions shared are my own.
About the Book (From Goodreads): Bestselling author Vanessa Kelly returns with an enthralling new series about the men of the Kendrick clan—and the women who claim their hearts . . . 
Lady Ainsley Matthews, heiress and darling of the ton, was expected to make a magnificent match. Instead she's hiding on a remote Scottish estate, terrified that her vicious former fiancé will use her pregnancy to force her into marriage. One man can help her—Royal Kendrick, son of a distinguished Highland clan. Though a mistake drove them apart long ago, Royal is the only person Ainsley trusts to protect her baby—even if that means agreeing to never see either of them again . . .
Scarred in body and soul by war, Royal suddenly has a purpose—caring for an innocent babe and thereby helping the woman he can't stop loving. But when Ainsley ultimately returns to Scotland, determined to be a real mother to her child in spite of the risk, there's only one solution: marriage. And only one likely outcome: surrendering to the desire that's simmered between them for so long, no matter how dangerous it may be . . .
About the Author: Vanessa Kelly writes USA Today Bestselling Regency-set historical romance for Kensington. Her books have finaled in numerous contests, and she was named by Booklist as "one of the new stars of historical romance." Her second book, Sex And The Single Earl, won the prestigious Maggie Medallion for Best Historical Romance. Vanessa is beginning a new Scottish historical romance series called Clan Kendrick, a spin-off from her last book, The Highlander's Princess Bride. She also writes USA Today Bestselling contemporary romance with her husband under the pen name of V.K. Sykes. Find her on the web at www.vanessakellyauthor.com or at www.vksykes.com.