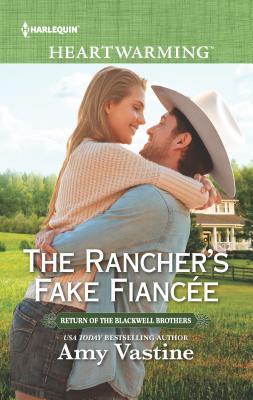 5 Stars
Published November 1st 2018 by Harlequin Heartwarming
The Rancher's Fake Fiancée is the fourth book in the Return of the Blackwell Brothers series, however like all the books in this series, it can be read as a standalone. There is enough information given to get the back story on the three brothers who were the main characters in the previous three books. As I mentioned in my previous reviews, each book is written by a different author and it is amazing how well the stories flow and the relationships continue.
This is Tyler Blackwell's story. Tyler and Chance are the youngest brothers and they are twins. Both boys left about 10 years earlier with the plan to never return. When Ty is finally convinced to come home to assist in selling the ranch, he brings home a co-worker to pretend she is his fiancée. He has a marketing business and after finding out his three older brothers are all getting married, he does not want to go home alone. Hadley Sullivan, agrees, even though she is surprised about the idea. She is promised a promotion if she helps him out. Neither of them expect to be there very long and they certainly do not expect to develop feelings toward one another.
I am really enjoying this series. Tyler is very damaged and his brothers are hoping that being back on the ranch will help to heal him. All the brothers have had a hard time dealing with the baggage they have from their relationship with their grandfather "Big E" but Tyler has baggage from his relationship with his parents and with them being dead, it is hard to heal. Hadley is wonderful character. She also wants Tyler to heal and unfortunately, she goes behind his back to do that. The brothers have a bond that may be stretched, but it is not broken and this story shows once again what love of family can do. There were times I wanted to give Tyler a good shake and maybe a slap upside the head, but he finally realizes that forgiveness is necessary in relationships. I recommend this book and series to all those who enjoy a great romance, a book with interesting family dynamics and a story about forgiveness of yourself and others. The author generously provided me with a copy of this book to read upon my request. The rating, ideas and opinions shared are my own.
About the Book (From Goodreads): "I'm coming home…With my bride-to-be." Tyler Blackwell just announced that he and Hadley Sullivan are getting married. And they've never even dated! Now she and her boss are in Montana so Tyler can sell his family ranch. Hadley only agreed to continue the deception in exchange for a promotion. But moving up the corporate ladder pales beside her growing feelings for Tyler. Will his past and Blackwell family secrets sabotage what Hadley wants more than anything–a real wedding?
About the Author: Amy Vastine has been plotting stories in her head for as long as she can remember. An eternal optimist, she studied social work, hoping to teach others how to find their silver lining. Now, she enjoys creating happily ever afters for all to read. Amy lives outside Chicago with her high school sweetheart-turned-husband, three teenagers who keep her on her toes, and their two sweet but mischievous pups.