5 Stars
Published September 2018 by Tyndale House Publishers, Inc.
I have been reading a lot of historical fiction surrounding WWII, so when I saw reviews popping up for this book, I decided it would be one that I would enjoy. I am very glad I made that decision. The story is about the plight of the Austians after Hitler marched in and took over the country.
Callie is a bookstore owner in small town America. When she receives an old copy of Bambi, written by Austrian Felix Saltern, she carefully looks over the book. Not only does she find the original owner's name in the book, Annika, but she finds lists of valuables hidden among the pages. She is not able to read it, but once it is translated, it leads her on a journey to find Annika or her family to return the book. She also finds a picture of a man named Max that sends her in another direction. Meeting up with a professor that is heading to Austria to try and recover treasure dumped by the Nazis as they fled the allies, they form a bond that leads them both to Austria. There is a second book that also has important clues to the past. Charlotte, Callie's foster mother of sorts, has had this book since she was a child dropped off at an orphanage in France during the war.
In the second storyline, we go back in time to Austria in 1938, where Annika is the daughter of the caretaker of an estate in the lake region of Austria. The castle is owned by a wealthy Viennese family as their summer house. Annika is in love with the owner's son, Max, but does he share her love? It seems Max is in love with a young Jewess, Luzia Weiss, who is in danger in this nazi occupied country along with so many others.
Melanie Dobson weaves a marvellous tale of two times, separated by an ocean and 80 years. The lives of several characters are brought together by a simple children's book. It is a story of the terror of the Nazi regime and the lives of the Jewish people devastated during the holocaust. It is also the story of what happens to those left behind and the generations that followed them. What happened to Annika, Luzia, Max, Marta and the rest of their families? I was captivated by this story and read it in a couple of days. It is emotional and gripping, and the characters will linger in your heart for a long time to come. It's a novel about, as the author says, "ordinary people who resisted evil in their own extraordinary way". A must read from intriguing start to compelling finish! All in all I found this book to be a remarkable story, recommended to all lovers of Historical Fiction, especially during the WWII time. The publisher, Tyndale House Publishers, Inc., generously provided me with a copy of this book to read. The rating, opinions and ideas shared are my own.
About the Book (From Goodreads): From the award-winning author of Catching the Wind, which Publishers Weekly called "unforgettable" and a "must-read," comes another gripping time-slip novel about hidden treasure, a castle, and ordinary people who resisted evil in their own extraordinary way.
The year is 1938, and as Hitler's troops sweep into Vienna, Austrian Max Dornbach promises to help his Jewish friends hide their most valuable possessions from the Nazis, smuggling them to his family's summer estate near the picturesque village of Hallstatt. He enlists the help of Annika Knopf, his childhood friend and the caretaker's daughter, who is eager to help the man she's loved her entire life. But when Max also brings Luzia Weiss, a young Jewish woman, to hide at the castle, it complicates Annika's feelings and puts their entire plan―even their very lives―in jeopardy. Especially when the Nazis come to scour the estate and find both Luzia and the treasure gone.
Eighty years later, Callie Randall is mostly content with her quiet life, running a bookstore with her sister and reaching out into the world through her blog. Then she finds a cryptic list in an old edition of Bambi that connects her to Annika's story . . . and maybe to the long-buried story of a dear friend. As she digs into the past, Callie must risk venturing outside the safe world she's built for a chance at answers, adventure, and maybe even new love.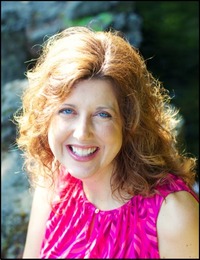 About the Author: Writing fiction is a fun excuse for Melanie to explore ghost towns and old houses, travel to unusual places, and spend hours reading dusty books and journals. She writes both contemporary and historical fiction with threads of romance and suspense.
Melanie is the award-winning author of almost twenty time-slip, historical romance, suspense, and contemporary novels including Catching the Wind, Beneath a Golden Veil, and The Silent Order. Three of her novels including Chateau of Secrets have won Carol Awards, Catching the Wind won the Audie 2018 Inspirational Fiction award, and Love Finds You in Liberty, Indiana won Best Novel of Indiana.
Melanie and her husband, Jon, have two daughters. After moving numerous times with Jon's work, the Dobsons have finally settled near Portland, Oregon, and they love to travel and hike in both the mountains and the cliffs above the Pacific. When Melanie isn't writing or researching, she enjoys line dancing, biking, and making up stories with her kids.
More information about her and her books is available on her website at www.melaniedobson.com. You can also connect with Melanie at www.facebook.com/melaniedobsonfiction.