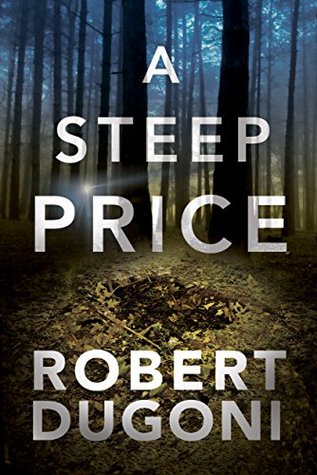 5 Stars
Published June 26th 2018 by Thomas & Mercer
A Steep Price, though 6th in this series, can be read as a standalone, but this is such an excellent series, I recommend you read them all. Once again, there are two stories being told as anyone knows that there is always more than one crime happening at a time. Detectives Del Castigliano and Vic Fazzio of the Seattle Police Department A Team are called to a shooting. It is daytime and a mother of two, Monique Rogers is gunned down in broad daylight in a city park. She is an African American community activist, who is trying to clean up the drug trade in her neighbourhood of South Park. Was this a retaliatory shooting or was Mrs. Rogers just in the wrong place at the wrong time? Not a soul will offer any information whatsoever. Faz, is sure that Little Jimmy, has something to do with this killing as he runs the drugs for the Sureno Cartel. Meanwhile, Detective Tracy Crosswhite is tied up in court as a witness while trying to keep her pregnancy a secret. Even though she has not revealed her pregnancy, a young female detective, Andrea Gonzalez, shows up as a new member of the A Team. Gonzalez already crosses swords with Tracy by asking her about her secret pregnancy. Has Captain Nolasco set plans into motion for a replacement for Tracy? When their only suspect is killed by Gonzalez, it looks like Faz is the fall guy for this shooting of an unarmed man. As Tracy is trying to reconcile why Gonzalez is there, she receives a call about a missing woman, Kavita Mukherjee. According to her best friend, Aditi, both women had their eyes set on medical school and roomed together. When Vita finds out Aditi is now married, she is angry and disappears. Is she just hiding to wrap her mind around the changes this will bring to her life, or has something bad happened to her?
I liked that this story has Del and Faz front and center. Not only is Faz dealing with the issues plaguing his career, but his wife Vera has been diagnosed with cancer and he is also dealing with that. Del is off with a bad back, but when he comes back, he knows it is up to him to find out what really happened and clear Faz's name. This one is layered with crimes, brutality, gangs and drugs in one plotline, as well as arranged marriages, the place of women and how families believe that woman are property in some cultures. The issues of breast cancer are also dealt with to a degree. So much going on, yet is all fits and Dugoni has once again penned suspenseful story with a lot of realism and family issues. Once again, be sure to read the acknowledgments at the end of the story to find out more about the topics chosen for this book. I am still very happy with this series and will continue to read it as long as Robert Dugoni continues to write the Tracy Crosswhite series.
About the Book (From Goodreads): New York Times bestselling author Robert Dugoni's thrilling series continues as Seattle homicide detective Tracy Crosswhite is plunged into a case of family secrets and murder…
Called in to consult after a young woman disappears, Tracy Crosswhite has the uneasy feeling that this is no ordinary missing-persons case. When the body turns up in an abandoned well, Tracy's suspicions are confirmed. Estranged from her family, the victim had balked at an arranged marriage and had planned to attend graduate school. But someone cut her dreams short.
Solving the mystery behind the murder isn't Tracy's only challenge. The detective is keeping a secret of her own: she's pregnant. And now her biggest fear seems to be coming true when a new detective arrives to replace her. Meanwhile, Tracy's colleague Vic Fazzio is about to take a fall after his investigation into the murder of a local community activist turns violent and leaves an invaluable witness dead.
Two careers are on the line. And when more deadly secrets emerge, jobs might not be the only things at risk.
About the Author: Robert Dugoni is the New York Times, #1 Amazon, and #1 Wall Street Journal Bestselling Author of the Tracy Crosswhite series: My Sister's Grave, Her Last Breath, In the Clearing, The Trapped Girl and Close to Home, as well as the short prequels The Academy and Third Watch. The police procedural featuring Seattle Homicide Detective Tracy Crosswhite has kept Dugoni in the Amazon top 10 for more than three years and sold more than 4 million copies. He is also the author of the critically acclaimed The Extraordinary Life of Sam Hell, released April 2018. Dugoni's first series featured attorney David Sloane and CIA agent Charles Jenkins.
He is the winner of the Nancy Pearl Award for fiction, a two-time nominee for the Harper Lee Award for Legal Fiction, A two-time nominee for the Mystery Writer's of America Edgar Award and a two-time nominee for the International Thriller of the year. His non-fiction expose, The Cyanide Canary, was a 2004 Best Book of the Year. He is published in more than 30 countries and two dozen languages.
You can sign up for his newsletter at:http://www.robertdugoni.com