I actually requested this book back in August when I read a review on Perfectly Tolerable. Check out Brittany's blog if you are not familiar with it.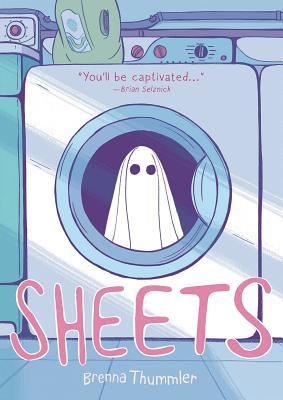 Sheets
Published August 28th 2018 by Lion Forge
3.5 Stars
SHEETS is a sad, but powerful middle grades graphic novel about loss, perseverance, forgiveness and unlikely friendships.
Marjorie, a thirteen year old girl, who feels invisible to the world. When her mother died, her father shut himself down emotionally. Marjorie is not running the family laundry and taking care of her little brother. She loves books and the piano. She is awkward and has not friends. A tough life trying to get through middle school. Throw in a ruthless business man harassing her, and I do not understand how she makes it through the day. And then there is Wendell. He is the ghost of a little boy, who has the habit of exaggerating. He is a cute little ghost who wears a sheet. When Wendell gets kicked out of his house and needs a place to stay, he ends up in the human world, living in the laundry. There are all kinds of problems with this, but when push comes to shove, Wendell and Marjorie team up to save the laundry.
This book is a graphic novel that deals with some deep issues: death of family and friends and the depression of the child forced into taking care of her family, as well as the bullying. Having said that, it is also about second chances and finding friends in the most unlikely places. The illustrations are wonderful. They are colourful, yet muted in pastel shades that add to the despair that Marjorie is feeling. The faces show so much expression, it is easy to see how the characters are feeling. This is a clever story that I believe middle school students would enjoy and perhaps some may identify with these outcast characters. With Halloween around the corner, this is a different type of ghost story. The publisher generously provided me with a copy of this book to read. The rating, ideas and opinions shared are my own.
About the Book (From Goodreads): Marjorie Glatt feels like a ghost. A practical thirteen year old in charge of the family laundry business, her daily routine features unforgiving customers, unbearable P.E. classes, and the fastidious Mr. Saubertuck who is committed to destroying everything she's worked for.
Wendell is a ghost. A boy who lost his life much too young, his daily routine features ineffective death therapy, a sheet-dependent identity, and a dangerous need to seek purpose in the forbidden human world.
When their worlds collide, Marjorie is confronted by unexplainable disasters as Wendell transforms Glatt's Laundry into his midnight playground, appearing as a mere sheet during the day. While Wendell attempts to create a new afterlife for himself, he unknowingly sabotages the life that Marjorie is struggling to maintain.
Sheets illustrates the determination of a young girl to fight, even when all parts of her world seem to be conspiring against her. It proves that second chances are possible whether life feels over or life is over. But above all, it is a story of the forgiveness and unlikely friendship that can only transpire inside a haunted laundromat.
About the Author: Brenna Thummler grew up in northwestern Pennsylvania, where she developed a great love for nature trails, peanut butter, and, above all, drawing. A graduate of Ringling College of Art and Design, she was named the Society of Illustrators Zankel Scholar during her junior year. Since graduation, she has done editorial and advertising work for such clients as the New York Times, the Washington Post, Razorfish, and Empathic Films LLC. While Anne of Green Gables is her first published graphic novel, her first original graphic novel is Sheets. In those rare moments she's not creating art, you might find her dancing, making music, baking cheesecakes, or spending time with kindred spirits.