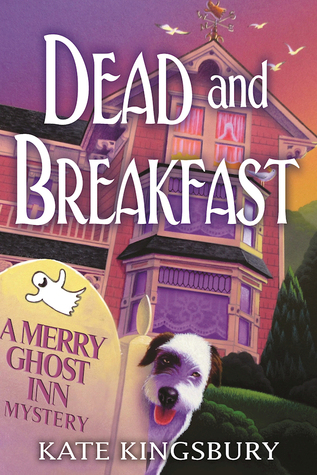 4 Stars
Published January 10th 2017 by Crooked Lane Books
This is the first book in a new series with some humour, a ghost, a murder and a pair of sleuths that are quite interesting. Melanie West, recently divorced, decides to take her grandmother up on her offer to open a bed and breakfast in a small town on the Oregon coast. The ladies purchase a haunted mansion and are in the middle of renovating when they find a skeleton in a hidden room. It is considered a cold case, so the police are in no rush to solve the case. Because this means the ladies can not open the Merry Ghost Inn until the police release the scene, they decide that they need to solve the crime themselves.
I enjoyed the characters of Melanie and Liza. Liza was originally from England so still has her accent and uses many expressing that are definitely English. Liza is one of those older characters that you just fall in love with. She is quite feisty, smart, has a strong character yet is very loving to Melanie. Melanie is also a strong character with brains, loyalty and perseveres with her actions to reach her goals. Then there is the ghost. Melanie doesn't believe that there is a ghost, but Liza does and even names him. She also figures out clues that she believes he has left for her.
This was a realistic murder with a few suspects. A cold case is not the easiest to solve, but they ask the right questions, rattle a few cages and use the clues they find in the house to lead them to the culprit. I wasn't that impressed with the motive, but overall, this was a fun story with an interesting mystery. I listened to this book and thought the narrator did a good job with the story and the voices. I will be listening to the next story shortly. If you enjoy a cozy mystery with multiple generations and a little bit of the paranormal, then pick this one up.
About the Book (From Goodreads): Melanie West is getting her life back on track after a messy divorce when her grandmother, Liza Harris, asks her to open a B&B with her. Together, Liza and Melanie purchase a purportedly haunted mansion on the Oregon coast and jump right into clearing out the cobwebs. But while attempting to remove wallpaper in an upstairs bedroom, the new B&B owners stumble upon a very real skeleton in their closet.
The police suspect the skeleton is that of the wife of the previous owner of the B&B, but no one in town seems to want to say much about her. As the inn owners try to juggle renovations with their own amateur investigations, their grand opening looms closer and closer–and a friendly ghost in their walls starts playing tricks. But it all comes crashing to a halt when a new body is found stabbed to death on the beach below the inn–the victim chillingly close in resemblance to Melanie herself.
It seems someone doesn't appreciate newcomers prying into the small town's past, and now it's up to Melanie and Liza to get to the bottom of these murders to save their business…and their lives.
About the Author: Kate Kingsbury grew up in London, England, and at a very early age began telling stories to her school friends during the London Blitz of WW II while huddling in bomb shelters. Kate moved to the U.S. in the early sixties, and had passed her 50th birthday when she published her first book. Writing as Doreen Roberts, (her real name at the time) she published 26 romance novels for Harlequin/Silhouette. In 1991 her first Pennyfoot Hotel book was published and since then Kate has written 35 mysteries, including the Manor House mysteries, the Bellehaven House mysteries(written as Rebecca Kent) and the Raven's Nest mysteries, (written as Allison Kingsley.) Her new series, The Merry Ghost Inn Mysteries debuted in January, 2017 with Dead and Breakfast, featuring a B & B on the Oregon coast. She has one son, Regan, and lives with her husband, Bill, in the beautiful state of Oregon.