4.5 Stars
Published June 27th 2017 by Zebra
This quote from USA Today, sums up the way I felt about this book.
"We all know where there's Donna Kauffman, there's a rollicking, sexy read chock‑full of charm and sparkle. Kauffman's characters are adorably human and so very magnetic." —USAToday.com
When Sonny's mother dies, she believes she is now alone, that is until she finds out that her biological father has died and she has been left a part of an old silk mill and relatives. Sonny heads off to Blue Hollow Falls to meet family she never knew about. Bailey is her 10 year old half sister, Sawyer, her half brother, and Addie, her father's ex-wife. Along with them comes a small town full of artisans who are working on restoring the old mill that she is a part owner of. As the story unfolds, I loved seeing how these relationships grew and were fleshed out. Of course finding out that Sawyer is adopted and not blood opens up a whole new direction in that relationship. The wasy Sunny feels about Bailey is so sweet and to see Bailey open up was another endearing quality to this book. I enjoyed the story line and the plot was entertaining throughout the book. All the characters were likable, relatable and everyone, even the secondary characters, added to my overall enjoyment of this story. Many reviewers commented on the details and thought some could have been cut out, but with this being a first in a new series, I enjoyed finding out about the place and the characters. I am definitely looking forward to reading the next one in this series.
About the Book (From Goodreads): From her free-spirited mother, Sunny Goodwin learned the value of peace, love, and Jerry Garcia. The inheritance from the father she never knew? That's a little more complicated…
Sunny never expected to find herself owning a centuries old silk mill in the shadow of Virginia's Blue Ridge Mountains . . . or becoming a half-sister to a ten-year-old named Bailey. Once the shock subsides, she plans to cash in and head back home. But the overgrown greenhouse she finds on the property calls out to the gardener in her, and she senses Bailey's need for nurturing too…
And someone else is making it hard for Sunny to leave: Sawyer Hartwell, an Iraq War hero who wants to make the old mill a creative hub for the artisans of Blue Hollow Falls . . . and wants Sunny to share his vision, and his life. But sexy as this ex-soldier may be, she's not sure she's ready to give love a chance…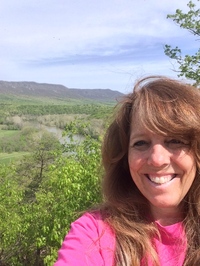 About the Author: USA Today bestseller and award winning author of the Cupcake Club series and the Blueberry Cove series, DONNA KAUFFMAN has been gratified to see her books get rave reviews in venues ranging from Kirkus Reviews and Library Journal to Entertainment Weekly and Cosmopolitan. She lives in the beautiful Blue Ridge Mountains in southwestern Virginia, where she is happily working on the next book in her brand new Blue Hollow Falls series, set right in her mountain home area. When she's not writing, she can be found recapping the popular tv show NCIS for USA Today, or escaping into her garden to play in the dirt. Donna also works as a volunteer wildlife transporter for two local sanctuaries, giving orphaned and injured wildlife a second chance at survival. You can catch up on all of her adventures via her author page on Facebook, or on Twitter, or Instagram @writerchick. Donna loves to hear from readers! You can contact her through her website at www.donnakauffman.com.