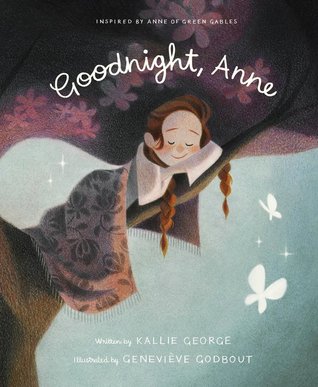 5 Stars
Expected publication: September 25th 2018 by Tundra Books
Illustrated by Geneviève Godbout
I absolutely loved this book. It is a perfect bedtime story featuring that beloved red-head, Anne Shirley. Anne tells Marilla that she can not go to sleep until she says goodnight to all the things she loves. As she says goodnight, she gives a peak into the stories that many have read and loved over the years. She includes: Matthew and Marilla her new family members, Diana her best friend, Miss Stacy her teacher, Gilbert the boy who gives her grief at school, and the area she lives in. The text is beautiful and poetic.
This charming book is a perfect introduction to Canadian author L.M. Montgomery's famous series. The illustrations are beautiful and rich and draw you into the story. They are vintage type illustration that I have come to expect from illustrator Geneviève Godbout. This is an amazing bedtime story that I will read to my granddaughter over and over. The publisher generously provided me with a copy of this book to read.
About the Book (From Goodreads): A beautiful bedtime picture book based on the best-selling Anne of Green Gables, introducing the irrepressible and beloved Anne to younger readers. It's time for Anne to go to bed, but not before she wishes goodnight to everyone and everything she loves!
Under the watchful eye of her adoptive mother Marilla, Anne has come to cherish life at Green Gables — the dearest, loveliest spot in the world, and her true home. Every night before she goes to bed, she thinks of all the people and places she loves: her family, her bosom friend Diana, her splendid teacher Miss Stacy, beloved tree Snow Queen, the Lake of Shining Waters and the brilliant sky above. Anne even wishes goodnight — or good riddance! — to pesky classmate Gilbert and nosy neighbor Mrs. Lynde. And through it all, Anne's imagination takes flight on a whimsical journey through Avonlea.
This sweet and heartfelt picture book is a perfect read-aloud introduction to L.M. Montgomery's beloved Anne and will delight her brand-new fans and lifelong readers alike.
About the Author: I'm an author, editor, and speaker living in Vancouver, BC, near the sea. When I'm not writing or editing, I'm teaching creative writing workshops.
I have my Masters of Children's Literature from the University of British Columbia.
I love picture books, fairy tales, beautiful art and music, and baking cookies.