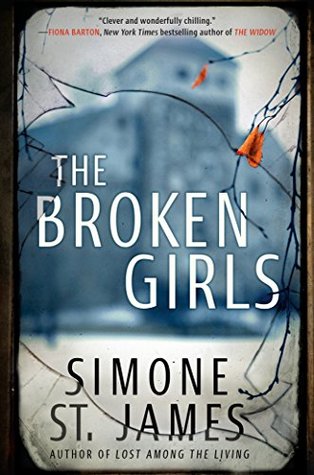 4.5 Stars
Published March 20th 2018 by Berkley
Kindle Edition, 336 pages
Hardcover, 336 pages
Published March 20th 2018 by Penguin Audio
Unabridged/eAudiobook, Audiobook
About the Book: 
A suspense novel from the award-winning author of The Haunting of Maddy Clare…
Vermont, 1950. There's a place for the girls whom no one wants–the troublemakers, the illegitimate, the too smart for their own good. It's called Idlewild Hall. And in the small town where it's located, there are rumors that the boarding school is haunted. Four roommates bond over their whispered fears, their budding friendship blossoming–until one of them mysteriously disappears. . . .
Vermont, 2014. As much as she's tried, journalist Fiona Sheridan cannot stop revisiting the events surrounding her older sister's death. Twenty years ago, her body was found lying in the overgrown fields near the ruins of Idlewild Hall. And though her sister's boyfriend was tried and convicted of murder, Fiona can't shake the suspicion that something was never right about the case.
When Fiona discovers that Idlewild Hall is being restored by an anonymous benefactor, she decides to write a story about it. But a shocking discovery during the renovations will link the loss of her sister to secrets that were meant to stay hidden in the past–and a voice that won't be silenced. . . .
My Review: This was quite the mix of genres. There was a bit paranormal, some romance, mystery, suspense/thriller and history. The story is told using two timelines. In 1950, Idlewild Hall is a boarding school for girls. Whether they were orphans, their family didn't want them (illegitimacy) or they were incorrigible, Idlewild is where girls can be sent and often forgotten about. They're all damaged and hurt in their own way. Some of them put on a good face and are given a wide birth by the other girls, some are shy and quiet and the brunt of taunts. A group of four girls are rooming together in 4C. Despite the differences in their backgrounds, attitudes and personalities, they form a bond that can not be broken in life or death. The 2014 storyline surrounds the mysteries of Idlewild, the discovery of a dead body in the well and the stubborn refusal of Fiona to blindly accept the death of her sister and the conviction of her boyfriend. She insists there is more to the story and she will not stop digging until she gets her answer.
The characters in the past were likable as they were often hidden away for reasons that were not their fault. They tried to survive and develop the first real friends they had. The ones in 2014 were not the easiest to like. Fiona can rub people the wrong way and her boyfriend/detective seems to be afraid to do the right thing. The new owners of the Idlewild Property are secretive and again, hard to believe and like. The beginning of the story is a bit slow, but do not give up on this one. It was an engrossing read and as the story unfolded, I was riveted. I could not wait to see what was going to happen next and ended up reading more than half of the book in just a few hours, staying up long past my usual bedtime. Of course, I can not write this review without mentioning Mary Hand, the ghost. Mary Hand Mary Hand, Dead and buried underland. She'll say she wants to be your friend. Do not let her in again. Mary Hand is something of a legend among generations of Idlewild Girls. Many have claimed to see her. Some have heard her speak. Some have been shown things. One thing is for sure: once you meet the ghost in black that haunts the grounds, you will never forget her.
This is definitely an enjoyable read that was much more than I ever expected. I recommend this to anyone who enjoys a little of everything, a mystery that's emotional and a bit spooky. The publisher generously provided me with a copy of this book via Edelweiss.
About the Author: Simone St. James is the award-winning author of The Haunting of Maddy Clare, which won two RITA awards from Romance Writers of America and an Arthur Ellis Award from Crime Writers of Canada. She wrote her first ghost story, about a haunted library, when she was in high school, and spent twenty years behind the scenes in the television business before leaving to write full-time. She lives in Toronto, Canada with her husband and a spoiled cat.  http://www.simonestjames.com