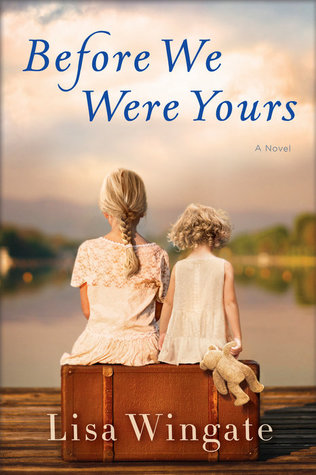 5 Stars
My Review: This book is based on one of America's most notorious real-life scandals. Knowing that, as I read, I had a very hard time not getting this book wet with my tears. Georgia Tann, director of a Tennessee Children's Home Society in Memphis. , kidnapped and sold poor children to wealthy families all over the country who were not able to have their own. This story was heartbreaking and uplifting at the same time. All you need to do is google Georgia Tann and you will find many articles about this human trafficker.
The story is told in two timeframes. The one in the past narrated by a young girl, Rill, whose brother and three sisters were taken from their parents and brought to this so-called orphanage. Families believed that this was temporary and they would get their children back, WRONG. The parents of this young family did not even understand what they were signing. By the time they realized what had happened, they were unable to get their children back. Children were not treated well in the home. They were punished severely for minor indiscretions and fed as little as possible. Sleeping arrangements were not the best, in fact the family of 5 slept in a basement room on smelly, musty cots for a long period of time. Blonde children were particularly valuable as they were more easily adopted, bringing the larger sums of money to it's crooked founder. Her story is heartbreaking, and though hers is a made up character her story is representative of many that were factual. The modern day story follows a grown woman, Avery, from a prestigious family who wants to find the truth about her beloved grandmother, now suffering from dementia. An accidental meeting of an older woman in a nursing home, sets this search in motion and once started, Avery refuses to give up until she finds out about her own family background.
The past story is what this book is really all about. The characters are more developed and the story is more emotional. The plot is very well written and the two stories tie together nicely. I liked the character of Avery, willing to go against her mother, Honeybee's, wishes for the first time in her life. I kept turning the pages quickly to see what would happen next. Even though this is a sad read, I enjoyed finding out about the story. I had no idea that this had gone on in the past, even though there is still human trafficking now. Well done Lisa Wingate. This book is historical fiction, but I believe anyone who enjoys good Literary Fiction will enjoy it.
Synopsis: Two families, generations apart, are forever changed by a heartbreaking injustice in this poignant novel, inspired by a true story, for readers of Orphan Train and The Nightingale.
Memphis, 1939. Twelve-year-old Rill Foss and her four younger siblings live a magical life aboard their family's Mississippi River shantyboat. But when their father must rush their mother to the hospital one stormy night, Rill is left in charge—until strangers arrive in force. Wrenched from all that is familiar and thrown into a Tennessee Children's Home Society orphanage, the Foss children are assured that they will soon be returned to their parents—but they quickly realize that the truth is much darker. At the mercy of the facility's cruel director, Rill fights to keep her sisters and brother together—in a world of danger and uncertainty.
Aiken, South Carolina, present day. Born into wealth and privilege, Avery Stafford seems to have it all: a successful career as a federal prosecutor, a handsome fiancé, and a lavish wedding on the horizon. But when Avery returns home to help her father weather a health crisis, a chance encounter leaves her with uncomfortable questions—and compels her to take a journey through her family's long-hidden history, on a path that will ultimately lead either to devastation or redemption.
Based on one of America's most notorious real-life scandals—in which Georgia Tann, director of a Memphis-based adoption organization, kidnapped and sold poor children to wealthy families all over the country—Wingate's riveting, wrenching, and ultimately uplifting tale reminds us how, even though the paths we take can lead to many places, the heart never forgets where we belong.
Published June 6th 2017 by Ballantine Books
Hardcover, 342 pages
Kindle Edition, 334 pages
Random House Audio – Audible Audio
About the Author: Lisa Wingate is a former journalist, an inspirational speaker, and the bestselling author of more than twenty novels. Her work has won or been nominated for many awards, including the Pat Conroy Southern Book Prize, the Oklahoma Book Award, the Utah Library Award, the Carol Award, the Christy Award, and the RT Reviewers' Choice Award. Her work was honored by the Americans for More Civility for promoting greater kindness and civility in American life. Lisa and her family live among the tall pines in the Ouichita Mountains.