4.5 Stars
My Review: This is the first book I have read by Mary Torjussen, but after reading some good reviews, I wanted to give it a try. What happens when you lie to your spouse about how you spend your evening away? Can a marriage survive when one spouse is resentful? Do you ever know who you can completely trust? The Girl I Used to Be is a psychological thriller that is almost completely told from Gemma's point of view, however, there are some chapters told from another point of view as the story goes on. There are some flashbacks to past events that have shaped the situation happening in the present, as well as making Gemma the person she is. The story is very easy to follow and everything flows smoothly.
When Gemma Brogan gave birth to her son she and her husband agreed that he would be the one to stay at home and care for their child while she got her real estate business up and running.It is now four years later and Gemma is becoming resentful. Joe does not even pretend to look for work and with her being the only breadwinner, she puts in long hours. She is beginning to feel like an outsider in her family, especially when Rory wants daddy to do everything for him. When an out of town training event takes Gemma away she tells him she is looking forward to a quiet and restful evening with dinner in her room. When she calls home to talk to her son, she is upset because he is already in bed. Frustrated and hearing the happy sounds from the bar terrace below, she heads out of her room and runs into a client who invites her to dinner. The night led to a lot of talking and quite a few drinks which left Gemma kicking herself the next morning. Not only is she hungover, but she does not remember what happened after she got to her room. When she begins to receive messages, pictures and video, she realizes that something happened that she does not remember. Will the police be able to help her? Who is sending these things to her? What will happen to her marriage if Joe finds out?
As I read this story, I thought I had it figured out, then boom, something happened to change my mind. There were several twists and I could just see Gemma falling apart and not knowing where to turn. This story kept me guessing almost to the end. I felt for Gemma, she was a good person who did not seem to deserve what had happened to her in the past or the present. I really liked the ending. It tied up all the loose ends and was very satisfactory. The writing flowed smoothly, was descriptive and had me emotionally involved in this story. As the story progressed, it was hard to put it down. I will definitely look for more books by Mary Torjussen. The publisher generously provided me with a copy of this book via Edelweiss.
Synopsis: The morning after real estate agent Gemma Brogan has dinner with a prospective client, she's furious at herself for drinking so much. But there will be more to regret than a nasty hangover.
She starts receiving mementos from that night: A photo of a hallway kiss. A video of her complaining about her husband. And worse…much worse. The problem is she doesn't remember any of it.
As the blackmailing and menace ramp up, Gemma fears for her already shaky marriage. The paranoia, the feeling that her life is spiraling out of control, will take her back to another night–years ago–that changed everything. And Gemma will realize just how far the shadows from her past can reach…
Published April 24th 2018 by Berkley Books
Paperback, 336 pages
Kindle Edition, 368 pages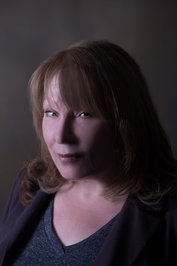 About the Author: Mary Torjussen grew up in Stoke-on-Trent. There was no television in her family home so books have always been her escape – she spent hours reading and writing stories as a child. Mary has an MA in Creative Writing from Liverpool John Moores University, and worked as a teacher in Liverpool before becoming a full-time writer. She has two adult children and lives on the Wirral, where her debut novel, GONE WITHOUT A TRACE, is set.