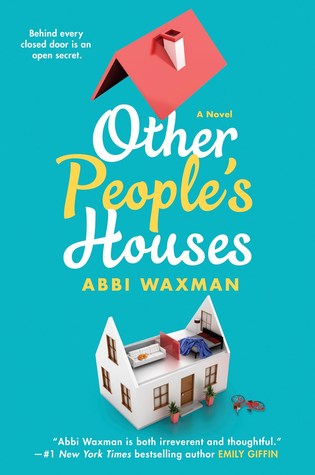 4 Stars
My Review: Do you ever think about what goes on behind closed doors on your street? Well, after reading this story, I don't think I want to know. This story lets us look into the lives of four families that are neighbours. There is humour, drama, love, heartbreak, infidelity, angst and illness. This is a story that will have you thinking about your own life and counting your blessings as well as those of your families and friends.
Frances is the car pool mom. She drives seven kids from four different houses to school each day. She is not perfect, but is envied by many who see her living happily with her husband and three children, always helping others. Anne, her neighbour is married with two children, but having an affair. Frances walks in on her one day and she realizes that she needs to end it as she really loves her husband and does not want to lose her family. Iris and Sarah have a son the same age as Frances. Sarah is an actress who is often away from home Iris wants another child, Sarah wants to take the family to China for an acting job. The final family is father and son, with his wife mysteriously out of town. All these families have issues and secrets behind closed doors that no one knows about, at least, not yet.
Other People's Houses is a very realistic story that is filled with the ups and downs of family life. All of the characters are very real, not perfect but real. One thing I was not prepared for was the talk of sexual encounters as well as the use of profanity, but I got used to it as the story went on. It was just part of who the characters were. Abbi Waxman knows how to pull the reader in with her sarcasm, realistic talk and humour, and never lets them go. She makes sure her readers can see that all actions have consequences, some good, some not so good. I was not sure how I felt about some of the characters in the story at the beginning, but by the end, I was rooting for them all and felt like they were friends. A good book that I would recommend. The publisher generously provided me with a copy of this book via Edelweiss.
Synopsis: The author of The Garden of Small Beginnings returns with a hilarious and poignant new novel about four families, their neighborhood carpool, and the affair that changes everything.
At any given moment in other people's houses, you can find…repressed hopes and dreams…moments of unexpected joy…someone making love on the floor to a man who is most definitely not her husband…
*record scratch*
As the longtime local carpool mom, Frances Bloom is sometimes an unwilling witness to her neighbors' private lives. She knows her cousin is hiding her desire for another baby from her spouse, Bill Horton's wife is mysteriously missing, and now this…
After the shock of seeing Anne Porter in all her extramarital glory, Frances vows to stay in her own lane. But that's a notion easier said than done when Anne's husband throws her out a couple of days later. The repercussions of the affair reverberate through the four carpool families–and Frances finds herself navigating a moral minefield that could make or break a marriage.
Published April 3rd 2018 by Berkley
Kindle Edition, 352 pages
Paperback, 352 pages
Hardcover, 330 pages
Audible Audio
About the Author:  
Abbi Waxman was born in England in 1970, the oldest child of two copywriters who never should have been together in the first place. Once her father ran off to buy cigarettes and never came back, her mother began a highly successful career writing crime fiction. She encouraged Abbi and her sister Emily to read anything and everything they could pull down from the shelves, and they did. Naturally lazy and disinclined to dress up, Abbi went into advertising, working as a copywriter and then a creative director at various advertising agencies in London and New York. Clients ranged from big and traditional, (AT&T, Chase Manhattan Bank, IBM, American Express, Unilever, Mercedes-Benz) to big and morally corrupt (R. J. Reynolds) to big and larcenous (Enron). Eventually she quit advertising, had three kids and started writing books, TV shows and screenplays, largely in order to get a moment's peace.Abbi lives in Los Angeles with her husband, three kids, three dogs, three cats, a gecko, two mice and six chickens. Every one of these additions made sense at the time, it's only in retrospect that it seems foolhardy.
Feel free to drop her a line, she readily welcomes any excuse to stop working and do something else. http://abbiwaxman.com/