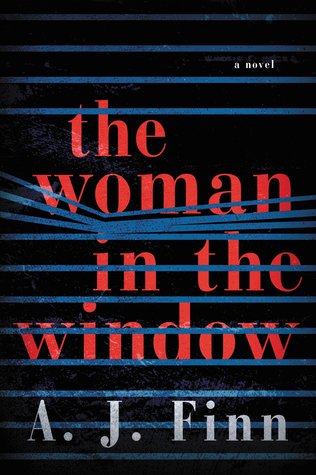 3 Stars
My Review: For me, this was a case of a book not living up to all the hype. I waited patiently for my turn to come up at the library and I read this book in two days, but I kept waiting for something big to happen. It finally did, in the last 100 pages or so. I am probably in the minority here, but it was not a 4 star for me.
Anna Fox lives alone in her four story brownstone, with Daniel, a tenant in her basement. Her husband and daughter, are elsewhere, though she talks to them daily. Something happened 10 months earlier and she is now agorophobic (afraid to leave the house). Her life consists of wathcing old black & white movies, chat groups on the web, internet chess and ordering food (including merlot in bulk) that can be delivered. Her other past time, is spying on her neighbours. It is while peering through one of these windows, that she believes she witnessed a murder. Stumbling out of her house after calling 911, she ends up in the hospital and nobody believes her regarding what she saw.
I found it really hard to like any of the characters. I felt pity for Anna, but the Russells are very unlikable. The suspense is waiting to see who will believe her, and who was the murderer and victim. One just keeps turning the pages, but the story just bogged down for me. The question of whether or not she was hallucinating was brought up, but if that was the case, then the story would have died. It was sad that she had no friends, no one to call to talk to except her physical therapist and psychologist. The ending comes fast and furious. I had figured out the story by that time, but it was well done. This one is a slow burner, but a bit too slow for me. Too bad I read all those great reviews before reading this one.
Synopsis: Anna Fox lives alone—a recluse in her New York City home, unable to venture outside. She spends her day drinking wine (maybe too much), watching old movies, recalling happier times . . . and spying on her neighbors.
Then the Russells move into the house across the way: a father, a mother, their teenage son. The perfect family. But when Anna, gazing out her window one night, sees something she shouldn't, her world begins to crumble—and its shocking secrets are laid bare.
What is real? What is imagined? Who is in danger? Who is in control? In this diabolically gripping thriller, no one—and nothing—is what it seems.