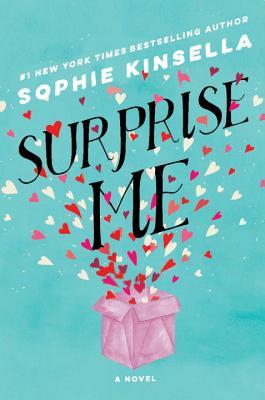 by Sophie Kinsella
Hardcover, 432 pages
Published February 13th 2018 by Dial Press
4 Stars
My Review: I have read all of Sophie Kinsella's books. I enjoy a light, fun chick-lit book and was expecting the same. It started out that way, but took a bit of a serious turn in the middle. This is a standalone book about Sylvie and Dan Winter. They are thirty-two and have to go for a physical for their health insurance. When they are told they will live to be over 100, they realize that means at least 68 more years together. This is a bit nerve wracking for them. How will they keep things interesting for that long. This is when Sylvie comes up with a great idea, Project Surprise Me. They both start planning surprises for one another and in typical Kinsella fashion, things go wrong. Sometimes it is humorous, sometimes embarrassing, but always surprising. That is, until things start to go wrong and Sylvie realizes Dan is keeping secrets that appear to be stressing him out. When she begins to snoop and eavesdrop, she comes to the conclusion that she does not know Dan as well as she thought. Is he having an affair? Is he gambling? Are they in debt? Is he borrowing money from her mother? What is the secret that seems to be pulling them apart.
Sylvie tells this story in first person so we never get to see what Dan is thinking or doing. As the story progresses, we see "Princess Sylvie" become responsible in her job and family life. She sees a side to Dan and her parents that she did not know was there. This was not the light and airy story I was expecting, but it was a satisfying read. If you are a Sophie Kinsella reader, you will see the somewhat scattered ditzy female you are used to, and in this case, she really grows and gets it right at the end. A good novel for a lover of chick-lit. The publisher generously provided me with a copy of this book via Netgalley.
Synopsis: After being together for ten years, Sylvie and Dan have all the trimmings of a happy life and marriage; they have a comfortable home, fulfilling jobs, beautiful twin girls, and communicate so seamlessly, they finish each other's sentences. However, a trip to the doctor projects they will live another 68 years together and panic sets in. They never expected "until death do us part" to mean seven decades.
In the name of marriage survival, they quickly concoct a plan to keep their relationship fresh and exciting: they will create little surprises for each other so that their (extended) years together will never become boring. But in their pursuit to execute Project Surprise Me, mishaps arise and secrets are uncovered that start to threaten the very foundation of their unshakable bond. When a scandal from the past is revealed that question some important untold truths, they begin to wonder if they ever really knew each other after all.