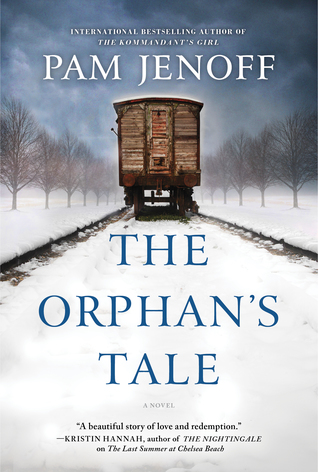 by Pam Jenoff
Paperback, 353 pages
Published February 21st 2017 by Mira Books
4.5 Stars
Synopsis: A powerful novel of friendship set in a traveling circus during World War II, The Orphan's Tale introduces two extraordinary women and their harrowing stories of sacrifice and survival.
Sixteen-year-old Noa has been cast out in disgrace after becoming pregnant by a Nazi soldier and being forced to give up her baby. She lives above a small rail station, which she cleans in order to earn her keep. When Noa discovers a boxcar containing dozens of Jewish infants bound for a concentration camp, she is reminded of the child that was taken from her. And in a moment that will change the course of her life, she snatches one of the babies and flees into the snowy night.
Noa finds refuge with a German circus, but she must learn the flying trapeze act so she can blend in undetected, spurning the resentment of the lead aerialist, Astrid. At first rivals, Noa and Astrid soon forge a powerful bond. But as the facade that protects them proves increasingly tenuous, Noa and Astrid must decide whether their friendship is enough to save one another – or if the secrets that burn between them will destroy everything.
My Review: I enjoyed this story about an aspect of WWII that I was not aware of. This book, about a German circus that was hiding Jews who were either performing acts, laborers or children, was interesting. While based loosely on true incidents the author came across in her research, it is a fictional story. I read this book as a monthly read for one of my Goodreads groups and was not disappointed.
There are two main characters who narrate the story. Noa is a young woman who became pregnant by a Nazi soldier and was thrown out of her home. Young and pregnant with no place to go, she is directed to a home for unwed mothers but has to give her baby up as soon as he is born. Afterward she flees to the city and finds a job at a train station. She is shocked and disgusted when she finds a train car full of babies, many of whom are dead. One boy, who she feels is reaching out to her, reminds her of her son, so she rescues him and runs not knowing where she is headed. After falling from exhaustion and hypothermia in the snow she is rescued by someone from a traveling circus.
The other main character is Astrid who is from a circus family and was a well known aerialist. She left her family to marry a German soldier. When the Nazi's begin their quest to rid Germany of all Jews, Astrid's husband renounces her and makes her leave their home. With nowhere else to go she heads for home. There is no one there, but the traveling circus is intact and she heads over to talk to the kind owner. He takes her in and she quickly regains her skills as an aerialist. The two women come to depend on each other, they both have secrets, and Astrid is given the job of training Noa to accompany her in the aerialist performance.
There are many other characters that flesh out the story such as Peter the clown, Peter who takes Astrid "under his wing" and falls in love with her as well as the owner, Herr Nuehoff. He protects the performers and is almost like a father to them. There are many others who protect the Astrid and Theo and care for them. This is a very character driven novel but I learned a lot about how important circuses were in Germany before the war and how slowly they were all dismantled by the Nazi's. Life in a circus is like a large family with the members working together for the circus to be successful, whether it is the performers, the laborers, the cooks or the ringmaster. There was a lot happening throughout the book and it never got boring. The last part of the book moved swiftly, was very intense and emotional. This showed us another side of the war and how not only the circus performers, but regular citizens as well as those who mocked the Nazis were treated. I would recommend this book to lovers of historical fiction, WWII stories, circus stories and anyone who wants to read a great story.