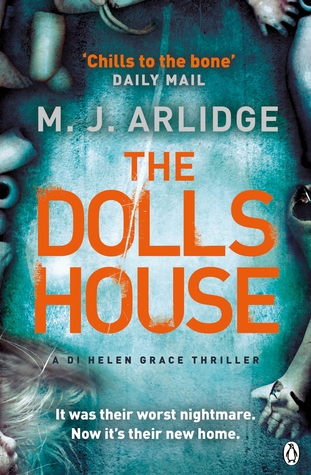 by M.J. Arlidge
Paperback, 434 pages
Published February 12th 2015 by Penguin Books
4.5 Stars
Synopsis: The Doll's House is the new twisting and terrifying thriller in the Detective Inspector Helen Grace series from M.J. Arlidge. Arlidge is the author of Eeny Meeny and Pop Goes the Weasel, and has been dubbed 'the new Jo Nesbo'.
A young woman wakes up in a cold, dark cellar, with no idea how she got there or who her kidnapper is. So begins her terrible nightmare.
Nearby, the body of another young woman is discovered buried on a remote beach. But the dead girl was never reported missing – her estranged family having received regular texts from her over the years. Someone has been keeping her alive from beyond the grave.
For Detective Inspector Helen Grace it's chilling evidence that she's searching for a monster who is not just twisted but also clever and resourceful – a predator who's killed before.
And as Helen struggles to understand the killer's motivation, she begins to realize that she's in a desperate race against time . . .
My Review: I have read all 3 of the DI Helen Grace stories and I loved every one of them. She is a strong woman who has so many issues, it is hard to get to know her. She is an angry person, who uses that anger to drive her investigations and catch the criminal. In every story we learn a bit more about her past and what molded her into the person she has become.
In this story, a body is found buried on the beach. When the body is identified, Helen finds out that even though the victim has been dead for several years, she has still been sending social media posts. As her team investigates, they come across some other missing person reports that fit the pattern and after digging, they find two more bodies buried at the beach. Now they are after a serial killer that they believe has another victim that is still alive. Using good old fashioned police work, the help of the press and a tip from the public, DI Grace discovers a link between the missing women and now must find the killer before he has a chance to kill again. While dealing with the crime, she is also dealing with her own problems involving her search for her nephew as well as trying to deal with a vendetta against her from her superior, Ceri Hardwood.
As with all the books in this series, this one is well written with a plot and subplots to keep you engaged and turning pages just as fast as you can. The short chapters seem to make the story go even faster. As with all the books in this series, it sucks you right into the story and can be read in one sitting. All the major characters are fleshed out and it is interesting to follow them from the previous book. If you enjoy a suspenseful police procedural with characters that you will feel for, then pick up this book, another great entry into the DI Grace series.