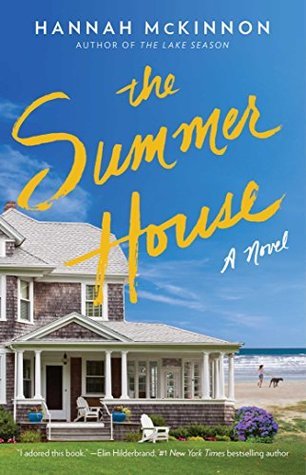 by Hannah McKinnon
Paperback, 336 pages
Published June 6th 2017 by Atria
4 Stars
Synopsis: When Flossy Merrill summons her children to the beloved family beach house to celebrate their father's eightieth birthday, both cherished memories and long-kept secrets come to light in this charming and lyrical novel from the author of The Lake Season and Mystic Summer.
Flossy Merrill has managed to—somewhat begrudgingly—gather her three ungrateful grown children from their dysfunctional lives for a summer reunion at the family's Rhode Island beach house. Clementine, her youngest child and a young mother of two small children, has caused Flossy the most worry after enduring a tragically life-altering year. But Samuel and his partner Evan are not far behind in their ability to alarm: their prospective adoption search has just taken a heart-wrenching turn. Only Paige, the eldest of the headstrong Merrill clan, is her usual self: arriving precisely on time with her well-adapted teens. Little does her family know that she, too, is facing personal struggles of her own.
No matter. With her family finally congregated under one seaside roof, Flossy is determined to steer her family back on course even as she prepares to reveal the fate of the summer house that everyone has thus far taken for granted: she's selling it. The Merrill children are both shocked and outraged and each returns to memories of their childhoods at their once beloved summer house—the house where they have not only grown up, but from which they have grown away. With each lost in their respective heartaches, Clementine, Samuel, and Paige will be forced to reconsider what really matters before they all say goodbye to a house that not only defined their summers, but, ultimately, the ways in which they define themselves.
My Review: Flossy Merrill's family and the Summer House in Rhode Island have always been her first loves. When her grown children stopped coming to the Summer House, she and her husband decided that it was time to sell the place. All the children had been asked the previous summer if they wanted the Summer House, but they all declined. This summer Flossy managed to get everyone together to celebrate their father's 75th birthday party and have a last family vacation together before they sold the home. The catch was, that they did not want to tell the kids until the week ended so as not to ruin their time together. As each child arrives, they bring with them their families as well as all their problems and baggage.
The characters will grow on you and bring you into their problems, issues, heartache and joy. I enjoyed the family interactions with some being funny, but most being emotional. I was expecting a fluffy summer beach read, but instead I found this book had plenty of depth, family drama and emotion. This was still a good summer read as it does show the beach vacation well and will bring back memories of those family summer vacations. The Summer House was a heartfelt, lovely read about a family I think most readers could identify with. I recommend this book to those who enjoy Summer Dramas with the fun and beauty of the beach. The publisher generously provided me with a copy of this book via Netgalley.