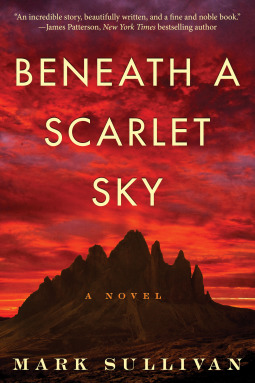 by Mark T. Sullivan
Paperback, 524 pages
Published May 1st 2017 by Lake Union Publishing
4.5 Stars
Synopsis: Based on the true story of a forgotten hero during one of history's darkest hours.
Pino Lella wants nothing to do with the war or the Nazis. He's a normal Italian teenager—obsessed with music, food, and girls—but his days of innocence are numbered. When his family home in Milan is destroyed by Allied bombs, Pino joins an underground railroad helping Jews escape over the Alps, and falls for Anna, a beautiful widow six years his senior.
In an attempt to protect him, Pino's parents force him to enlist as a German soldier—a move they think will keep him out of combat. But after Pino is injured, he is recruited at the tender age of eighteen to become the personal driver for Adolf Hitler's left hand in Italy, General Hans Leyers, one of the Third Reich's most mysterious and powerful commanders.
Now, with the opportunity to spy for the Allies inside the German High Command, Pino endures the horrors of the war and the Nazi occupation by fighting in secret, his courage bolstered by his love for Anna and for the life he dreams they will one day share.
My Review: I have read many books about WWII, but this is the first one I have read about the plight of the Italian people. It was the forgotten front, but the people who lived it and fought it, will never forget it. When I met a soldier at the Canadian War Museum who fought in the Italian Campaign, I spent a lot of time with him. He said very few people were interested in the events he was involved in. I hope this book opens people's eyes to that.
Seventeen year old Pino Lella and his family live in Milan. Pino's mother and brother leave Milan when the bomboing begins, but he remains with his father. When an Allied bomb hits their home and demolishes it, his father sends him north to Casa Alpina. This is a school where Pino spent much time in his youth and where his brother is living at the time. When he arrives, he assists Father Re in his dangerous missions of transporting Jews to safety in neutral Switzerland. Near Pino's eighteenth birthday, his father sends an urgent message to return home. He is in danger of being drafted and sent to the Russian front. His father, mother and uncle want him to enlist in the German Army to avoid being drafted. Pino becomes the chauffeur/translator for General Leyers, Hitler's left-hand-man in Italy. Using this position, he is able to give information to the resistance about the German plans.
This story is based upon a real person and their experiences. Of course research is not always able to find everything, so the author had to add some narration and conversations that might have happened. Pino was a teenager, his emotions and actions were always in line with his age. This is a wonderful book to add to the WWII genre. It is a great read for adults as well as Young Adults, being as the main character is a teenager when the story opens. This is an easy-reading, fast-paced book about how war brings out the worst and the best in people. The publisher generously provided me with a copy of this book via Netgalley.