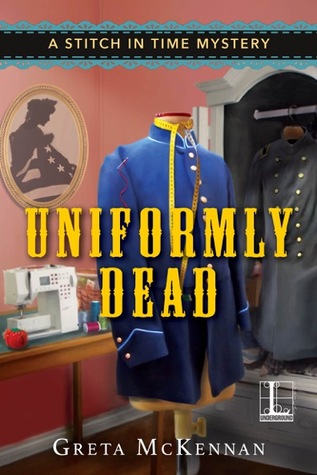 by Greta Mckennan
Paperback
Published May 16th 2017 by Kensington Publishing Corporation
3.5 Stars
Synopsis: Historical seamstress Daria Dembrowski has her work cut out for her as she searches for a killer's pattern . . .
Daria has come up with a brilliant new plan to expand her seamstress business beyond stitching wedding gowns—historical sewing. And with Civil War re-enactors setting up camp in her hometown of Laurel Springs, Pennsylvania, she has plenty of opportunities, including one client playing a Confederate colonel who's a particular stickler for authenticity.
But soon the small-town peace starts coming apart at the seams as an antique doll is stolen from a Civil War exhibit and the cranky colonel is found impaled by his own bayonet. When Daria's brother is suspected of the theft and a bridal client's fiancé is accused of the murder, Daria is determined to untangle the clues to prove their innocence. She needs to get this case sewn up fast, though, before the murderer re-enacts the crime and makes her history.
My Review: Uniformly Dead by Greta McKenna is the first book in "A Stitch in Time Mystery" series. Daria Dembrowski lives in Laurel Springs, Pennsylvania. After a disastrous relationship where her ex-fiancé skipped town after clearing out their bank account and leaving her in debt, Daria is trying to expand her seamstress business. She has gotten into "historical sewing" and is fortunate that there is a reenactment of a civil war battle nearby. A group of Civil War reenactors have set up an encampment on the outskirts of Turner Run Park. Daria has been commissioned by Colonel Windstrom (his reenactor name) to make a historically accurate jacket. She visits the camp several times to observe uniforms. While at the camp, she meets the dashing Sergeant Jim Merrick (aka Jim Laker) where she realizes there is some physical attraction. She is also working on a wedding gown (her original business) for a friend, Marsha, whose fiancé is involved in the reenactment. As the story starts, Daria's brother, Pete, shows up back in town and asks to stay with Daria while working as a cameraman on the Civil War film God and Glory, that is filming in town. When Daria and Pete head off to visit the local museum to check out other Civil War uniforms, someone steals Angeline, a doll in the collection. Pete is accused of stealing the doll. When Daria finishes the uniform and drops it off with the miserable Colonel, she realizes that she forgot her measuring tape in his tent and returns for it. She finds Colonel Windstrom dead on the floor and Chris Porter, Marsha's fiancé standing over him with a bayonet in his hands. Marsha asks Daria for help to clear Chris' name and Daria agree. While all this is going on, Pete is involved in troubles of his own that drag Daria into something she has not idea about. With the help of Aileen, her quirky tenant who plays in a heavy metal band, the ladies muddle through.
I found Uniformly Dead to be a quick and easy read. There are several unique characters in the book. The troublesome brother, the rocker roommate, and the meddlesome photographer add colour and humour to the story. This is the first book in the series, so the characters have not yet been fleshed out. Daria seems to be the only one that we really get to know. I hope we find out more about Pete and Aileen in future books. The plot is well developed and the two mysteries come together at the end. My one complaint is that I figured out the murderer long before the end of the book or before Daria did. It still held my interest as I wanted to see what would happen next to Daria and Pete. Uniformly Dead is for readers who enjoy light, humorous cozy mysteries. The publisher generously provided me with a copy of this book via Netgalley.