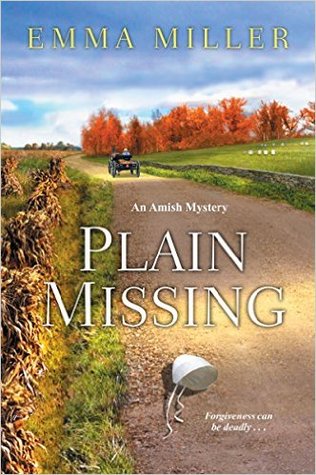 by Emma Miller
Published March 28th 2017 by Kensigton
4.5 Stars
Synopsis: Inn owner Rachel Mast is no longer a devout member of the Amish community of Stone Mill, Pennsylvania, but she still cares deeply for them. So she's staying at her family's farm to help her mother through an illness—and at the same time, trying to track down two missing people . . .
When the young gather to sing, it's usually an evening of wholesome fun—but this time, the event has stirred whispers of scandal. Elsie Hostetler and her sweetheart, Dathan Bender, never came home afterward. There's not even a trace of their horse and wagon, leading some to suspect that they've run off to marry and join the Englisch world.
But Rachel fears there's more to the story than a rebellious elopement. Her fiancé, a state trooper, is out of town, so she starts investigating herself, using her Amish background to pry information from the tight-lipped community. It turns out things were not so peaceful between Elsie and Dathan—and there was also a confrontation at the singing with a short-tempered ex-Marine. Among the simple houses and quiet country roads of Stone Mill, Rachel must find out just what kind of sins have been committed—and who is need of forgiveness . . .
My Review: This is the fourth book in the "Amish Mystery" series. I have read one previous one, but you can read these books as standalone. There is enough history about the main character to follow her story.
Rachel Mast, is a character that lives between two worlds. Born and raised Amish, she left home at seventeen to go to university and then went to live in the big city and work for Corporate America. When that did not pan out, she returned home, but not to the Amish home, she lives as an Englisher and runs a Bed & Breakfast as well as a gift shop in the nearby town of Stone Mill. She has recently returned to the family home to help take care of her mother who is undergoing treatment for breast cancer, as well as the rest of the family. The interactions between Rachel and Esther Mast are quite funny, as her mother tries not to recognize her as part of the family. When her cousin, Elsie, does not return home from a "singing" on a Friday night, Elsie's sister comes to Rachel for help looking for her (Rachel has a jeep). When they do not find her, the consensus is that she and her beau, Dathan, have left the community to get married and live as "English". When Elsie's body is found a couple of days later, and Dathan's during Elsie's funeral, Rachel sets out to find out what happened. The detective in charge of the case quickly assumes it was murder, suicide and closes it. Rachel with the help of her cousin and her Detective boyfriend Evan, continue to investigate.
This story is filled with mystery, suspense, and romance. Rachel's character is strong, loyal, smart, stubborn, persistent and loving. She is so caring of the Amish world and its traditions that they let her in, even though she has left the "Plain World" to live as an Englisher. The mystery in this story is well plotted and will keep you guessing as to who is the guilty party. I changed my mind on who it was a few times and I love when I think I have it all figured out only to be thrown in a different direction by the author. I did figure it out a bit before the reveal, and that made the story even more interesting for me as the motive and the act was another twist in itself. Definitely an author I will follow, especially as I learn more about the Amish life. The publisher generously provided me with a copy of this book via Netgalley.