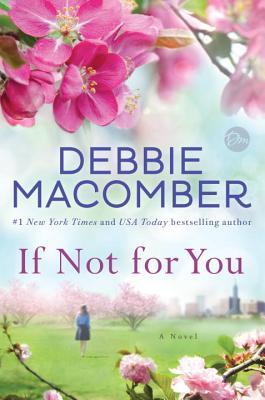 by Debbie Macomber
Published March 21st 2017 by Ballantine Books
5 Stars
Synopsis: An emotionally stirring novel that shows how obstacles can be overcome, differences can be strengths, and sometimes a choice can seem wrong even though it s absolutely right
If not for her loving but controlling parents, Beth Prudhomme might never have taken charge of her life and moved from her native Chicago to Portland, Oregon, where she s reconnected with her spirited Aunt Sunshine and found a job as a high school music teacher. If not for her friend Nichole, Beth would never have met Sam Carney, although first impressions have left Beth with serious doubts. Sam is everything Beth is not and her parents worst nightmare: a tattooed auto mechanic who s rough around the edges. Reserved and smart as a whip, Beth isn t exactly Sam's usual beer-drinking, pool-playing type of woman, either.
But if not for an awkward setup one evening, Beth might never have left early and been involved in a car crash. And if not for Sam who witnessed the terrifying ordeal, rushed to her aid, and stayed with her until help arrived Beth might have been all alone, or worse. Yet as events play out, Sam feels compelled to check on Beth almost daily at the hospital even bringing his guitar to play songs to lift her spirits. Soon their unlikely friendship evolves into an intense attraction that surprises them both.
Before long, Beth's strong-willed mother, Ellie, blows into town spouting harsh opinions, especially about Sam, and reopening old wounds with Sunshine. When shocking secrets from Sam s past are revealed, Beth struggles to reconcile her feelings. But when Beth goes a step too far, she risks losing the man and the life she s come to love.
My Review: Nobody does realistic, down to earth, romance stories like Debbie Macomber. This is the third book in New Beginnings series and I have really enjoyed them. They are all about second chances and taking chances on life and love to have your new Beginning.
Beth Prudhomme is twenty five year old woman who has been smothered by her mother since birth. They are a well to do family and her mother thinks she knows what and who are best for Beth. Beth decides it is time to take control of her life and moves from Chicago to Portland where she will be closer to her Aunt Sunshine. She gets a job teaching music and becomes friends with Nichole, another teacher. When Nichole sets her up on a blind date with her friend, Sam, Beth gives in after her Aunt tells her that this could be the one. Beth and Sam do not hit it off. She is polished and a little uptight, Sam is rough around the edges, a mechanic with long hair, a beard and tattoos. When dinner is over, they cannot get to the door fast enough. On the way home, Beth is t-boned and Sam witnesses the accident. He jumps out of his truck to see if he can help and holds her hand until the EMS arrives. That sets the stage for their second chance. I was hooked and could not wait to see if Sam and Beth were going to get together. There are several storylines going on in this story involving Sunshine and her sister as well as a lost love, Nichole and Sam, Sam's baggage from a previous relationship as well as Beth's growing independence.
The characters are very well developed that you feel as if you know them. Beth has a huge heart and truly cares about others. She does not want to see anyone hurting and will do what she can to fix what she sees is the problem. Unfortunately, she tends to stick her nose in others people's business and sometimes the results are heart breaking. Sunshine is exactly what her name says. She is an artist who is loving, happy and wants the best for Beth. She has some regrets in her life that she wants to change. Sam is everything a male romantic hero is supposed to be. He is rough around the edges and not one to show his emotions. When he falls in love, he falls hard and will do whatever he can to make the other person happy. The book has everything. There is love, forgiveness, jealousy, unsuspecting emotions, and second chances. Yes, this is a feel good book, but it is a book that is totally believable. That is exactly what I want when I pick up a book by Debbie Macomber. If you are looking for a book to make you feel good, go through a range of emotions and root for the characters, then pick this one up. You will not be disappointed. The publisher generously provided me with a copy of this book via Netgalley.