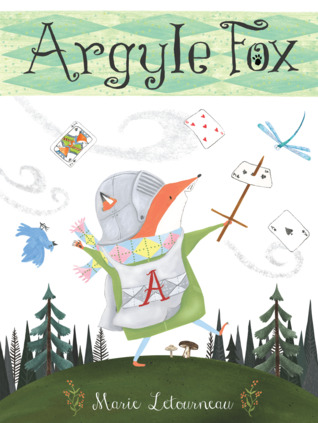 by Marie Letourneau
Expected publication: March 14th 2017 by Tanglewood
4.5 Stars
Synopsis: Argyle Fox, with his signature style, wants to play outside on a springtime day, but the wind is wreaking havoc with his fun and games. As soon as he builds a card tower, climbs into a giant spider web, or takes up his pirate sword, here comes the wind: Woosh!
Mama Fox tells grumpy Argyle that if he thinks long enough, he will come up with something to do. Following his mother's suggestion and inspired by her knitting, he works all the pieces of his day together and creates the perfect solution.
The story of Argyle teaches that failure is often a path to success and celebrates perseverance, creative thinking, and an old-fashioned springtime activity.
My Review: Argyle Fox is a young fox who is determined to have a great time outside. Unfortunatley it is windy out and the wind does not cooperate. Everytime he gets an activity set up, the wind blows and wreaks havoc with his materials. His cards blow away, his spider net gets tangled, his castle collapses, his pirate hat blows off and his soccer ball ends up in a tree. He gets upset and goes in the house complaining. His mother encourages him to keep thinking because there is an activity that is perfect for a windy day. After lots of thinking, it comes to him. Kites are the best for windy days and he makes a wonderful one. When his friends see it, he makes more kites and they all join in the fun.
I loved Argyle Fox. He is a great character who wants to play outside. Everything he plays uses him imagination. He had such great ideas, too bad the wind did not cooperate with him. I loved that his mom just kept encouraging him to think of another activity instead of telling him what he could do, or worse yet, having him stay in the house and watch television or play on other technology devices. The illustrations are beautiful, colourful, detailed and full of expressions and helpful friends. This is a great book for family libraries as well as schools and classrooms. The publisher generously provided me with a copy of this book via Netgalley.