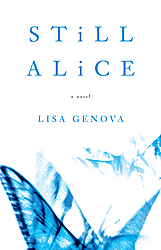 by Lisa Genova
Published December 16th 2014 by Pocket Books (first published 2005)
5 Stars
Made into a movie in 2014
Stnopsis: Alice Howland is proud of the life she worked so hard to build. At fifty years old, she's a cognitive psychology professor at Harvard and a world-renowned expert in linguistics with a successful husband and three grown children. When she becomes increasingly disoriented and forgetful, a tragic diagnosis changes her life–and her relationship with her family and the world–forever.
At once beautiful and terrifying, Still Alice is a moving and vivid depiction of life with early-onset Alzheimer's disease that is as compelling as A Beautiful Mind and as unforgettable as Judith Guest's Ordinary People.
My Review: You hear jokes all the time about having "oldtimers" because people lose things, forget why they went into a room or miss an appointment, but imagine if that was your whole life. Alzheimer's is no joking matter. This book tugged at my heartstrings, and left me emotionally exhausted. It is a book that I picked up many times to read, then put down because I wasn't sure I wanted to know what it was like to have Early Onset Alzheimer Disease, but I finally read the whole thing.
Alice Howland was diagnosed with EOAD at the age of 50. She is married to a Biology professor wo researches cancer and has three grown children that she loves. She was a brilliant professor at Harvard who spoke around the world. She was one of the highest rated professors by her students. She participated in research projects, wrote grant applications and mentored Doctoral Candidates, in other words, she was an extremely mentally active person and rumour has it that helps reduce the risk of Alzheimer's. Not if you have the genetic form apparently. This story is told from Alice's prosepective as she journeys down the road as an Alzheimer's patient. She gradually loses her life including her job, her love of running and the ability to read, speak and recognize simple things especially her family. This story was heartwrenching, yet frightening. To read about her quick decline, yet also the see the lengths she goes through to live as normal a life as she can while she still has part of "her self" is hard, but should be read by everyone to see what could happen to anyone we love or even ourselves. A great read. Now I think I will finally break down and watch the movie.