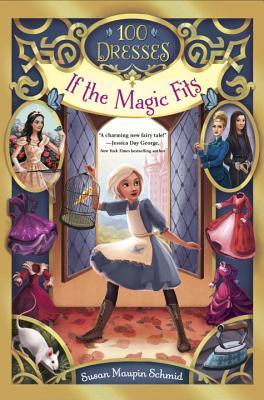 by Susan Maupin Schmid, Lissy Marlin (illustrator)
Published October 25th 2016 by Random House Books for Young Readers
5 Stars
Synopsis: Inside an enchanted castle, there's a closet—a closet with one hundred dresses that nobody ever wears. Dresses like those need a good trying-on, and Darling Dimple is just the girl to do it. When she tries on Dress Number Eleven, something unbelievable happens. She transforms into the castle's Head Scrubber! It turns out that each dress can disguise her as someone else. And Darling is about to have an adventure that calls for a disguise or two…or a hundred.
My Review: Darling Dimple is an eleven year old orphan who was raised by Jane, a servant in Princess Mariposa's castle. When Jane loses her eyesight, Darling becomes a lowly pot scrubber in the under-cellar of the castle kitchens. She dreams of many things and tells the most fantastic stories to her friend Gillian. It turns out that the castle is magical and she has many adventures coming her way. When she gets into trouble with the Supreme Scrubstress, who doesn't take kindly to being splashed with dirty brown dishwater when Darling and her friends are fooling around one day, she is sent off to become an under-presser. The Supreme Scrubstress finds out that it's "hard work that requires close attention," so she happily volunteers Darling.
Darling's new job as under-presser turns out to be a pretty good job. He now lives upstairs, has nice clothes, lives in a dormitory that is much nicer than her room in the cellar and helps to take care of Princess Mariposa's beautiful things. The only problem is that Francesca, the head girl, does not seem to like Darling and plays tricks on her like putting glue in her hairbrush.
When Darling is asked to take care of the princess's canary, she puts it in the last closet that is full of old dresses that belonged to the previous queens. What Darling does not know is that with the canary in the closet, the dresses come alive. When she tries one on, it fits her perfectly and she suddenly looks like someone else. Her adventures begin. When she finds out that the prince the Mariposa is going to marry is just trying to get the Magic Regalia, she tries to figure out how to help Mariposa and expose the prince and his accomplice.
If the Magic Fits is a delightful middle grade fantasy, full of magical dresses, mythical beasts, other magic, a little danger, some family drama and loyalty to friends. The plot is well done, it is brisk and flows very quickly from one event to the next. The pace is brisk, with Darling quickly propelled from one adventurous outing to the next. Darling is a brave and smart main character who grows through her experiences, and learns about the importance of loyalty and friends. Even the princess, who is surrounded by princes and noblemen vying for her hand, discovers something about true friendship and forgiveness.
I definitely recommend "If the Magic Fits" to young girls from age 8 and up. Older readers who enjoy a children's fantasy may also enjoy this book, I know I did. I like the fact that the main character is a strong female and that is why I recommend it to girls. This would be a great addition to a school or late primary/early junior class library. I am actually looking forward to the next book in the 100 Dresses Series. The publisher generously provided me a copy of this book via Netgalley.