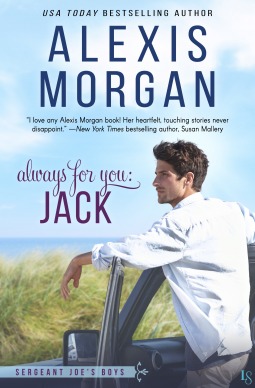 by Alexis Morgan
Published April 19th 2016 by Loveswept
4 Stars
Synopsis: Praised by Susan Mallery as a bestselling author whose "heartfelt, touching stories never disappoint," Alexis Morgan introduces Sergeant Joe's Boys: three brothers living up to a legacy of courageous military service—and pursuing the women who have captured their hearts.
 No one understands family loyalty like Jack McShane. He'd do anything to honor his foster father's last wishes, even if it means putting his own plans on hold to manage Joe's construction business. An ex–Special Forces operative, Jack thrives on the thrill of globe-hopping rescues. But now he's needed closer to home. His foster mother has her hands full with a troubled teen, and when Jack meets the hired tutor, he discovers a woman who stirs his protective instincts—and his deepest desires.
Caitlyn Curtis knows that good looks can hide a hot temper. After an abusive marriage crushed her dreams of a happy ending, she swore off men—until one intoxicating dance in Jack's strong arms breaks down every emotional barrier. Tough but tender, he leaves Caitlyn yearning for more of his gentle seduction. Despite the violence he's seen, Jack is a good man. And even though passion can be dangerous, the promise of Jack's kiss tempts her to believe that love is a risk worth taking.
My Review: This is the first book in the Sergeant Joe's Boys series. I read the second one first so I expected this one would be a romance novel. There was a lot more to the story than that. Joe and Marlene Lukasky adopted three boys who were in foster care, Jack, Tino and Mikhail. All three of the boys enlisted in the armed forces when they were old enough to honor Joe, who had also been in the military. Jack is the only one that is no longer in the military due to a knee injury. When all the boys get called home due to Joe's sudden heart attack, Jack is the only one able to honour Joe's request of running the construction business. He gives up his globe trotting job in private security and moves home. While on the job, he meets a young boy who appears to be homeless. He reminds Jack of himself at that age. When Jack gets a visit from the police who tell him that Rickey has been assaulted and in his the hospital, he and Marlene head off to be there when he wakes up. Marlene, still having her licence as a foster mother, agrees to have Rickey live with her as long as Jack is the main caretaker and he goes through the process to become a licenced foster parent. All does not go as planned. Rickey is not trusting (who can blame him), there is someone still out there after him, and he is behind in school. When Jack hires a tutor for Rickey, they begin to feel an attraction to one another.
What I loved about this book was the way this family interacted. There was so much respect and love between them. They joked and teased one another, but also had each other's backs. Rickey's character was the one I liked the best in this story. He was a damaged, distrustful kid who wanted to belong. He had a tough exterior, but was really soft underneath. It was wonderful to see how hard Jack worked to earn his trust. Caitlyn, the tutor, also had some baggage. Her ex-husband had been abusive and we do not find out the extent of that abuse until near the end. Yes, this is a romance so of course it will have a happy ending, but the story getting there is interesting and pulled me in. It was a quick read, but very enjoyable. I would recommend that you read this series in order if possible. I recommend this book to romance lovers as well as those who like an underdog story. The publisher generously provided me with a copy of this book via Netgalley.