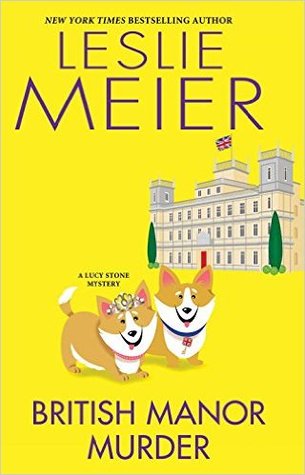 by Leslie Meier
Published September 27th 2016 by Kensington
4.5 Stars
Synopsis: It's a nippy spring in Tinker's Cove, Maine, and so Lucy Stone can't wait to join her friend Sue at the Earl of Wickham's manor in England for the "Heads Up!" hat exhibition—even if she has to spend her entire holiday curtseying. But at Moreton Manor, privileged life isn't always tea and crumpets . . .
Although Perry, the earl of the house, and his sister, Poppy, are surprisingly accommodating to their jetlagged guests, Lucy feels uneasy after a fallen portrait sparks talk of a deadly family omen. The bad vibes come in quickly—snobby Aunt Millicent and her handmaiden Harrison unexpectedly drop by for the exhibition, and meals with the family are consistently tense. But real trouble begins when a body, bludgeoned by the chapel's gold-plated reliquary, is found in a hidden, sealed off room. Stranger still, the corpse is identified as Harrison's son, Cyril.
Considering the weapon and the clandestine location, Lucy wouldn't be shocked if the murder was an inside job. Cyril wasn't exactly a gentleman, and it's unclear what business he had on the property. Was the victim trying to make off with the family riches before meeting his end? Or was a scorned country squire looking to settle an ancient indiscretion for good? One thing's for sure—the criminal is privy to Moreton Manor secrets . . .
To end the reign of terror, Lucy must keep her ear to the ground and mind time-honored traditions—no matter how unusual. Because Lucy has a hunch that the killer has been in her company all along, just waiting for a chance to make blueblood run red . . .

My Review: This is only the second book I have read in the Lucy Stone series, but it is easy to enjoy the book and follow without having read the others. Lucy is falling into a depression because her son and his family have moved to Alaska. She misses her grandson terribly. Her friend Sue has been invited to England by the Earl of Wickham to bring her hats to display in his "Hat Exhibit" at Moreton Manor. When they arrive they are in for a surprise. Expecting a lifestyle similar to what they have seen on Downton Abbey, they are shocked to find that the Manor House is actually a tourist attraction open to the public and the family lived in the renovated servant's wing. Perry (the Earl), his sister Poppy and her husband Gerald are living there full-time and taking care of the house with their staff. When Lucy, Sue and the hunky gardener Geoffrey find a dead body in the maze, the police put it off to a tourist who has overdosed. When snobby Aunt Millicent and her lady's maid Harrison unexpectedly drop by the family members are consistently tense. When Aunt Millicent complains about the smell in the hallway near her room, the family puts it off as a dead mouse, but it eventually gets unbearable. A body is discovered in a secret room and Lucy can not help but begin her own investigation.
This is an interesting story. It has all the stuff mysteries are made of: dead bodies, secret children, drugs, thievery, dalliances, snobbery, and entertainment. The fact that I had pretty much figured out who the murderer was quite early, it did not deter my enjoyment of the book. I certainly recommend this Lucy Stone mystery to all Cozy Mystery readers.
I received a copy of this book from the publisher via Netgalley in exchange for an honest review.