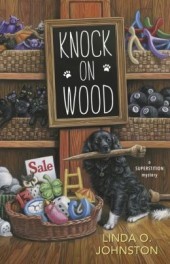 by Linda O. Johnston
Published October 8th 2015 by MIDNIGHT INK
4 Stars
Synopsis: Rory Chasen, now the manager of the Lucky Dog Boutique in Destiny, California, is delighted when her closest friend Gemma Grayfield, a librarian, comes for a visit. But Gemma arrives early and seems upset. It turns out she has broken up with her boyfriend, Frank Shorester. Gemma is soon hired to manage the Broken Mirror Bookstore. Frank follows her to Destiny, where Gemma is also wooed by two local men. Rory may be a little jealous—until one of those men, Deputy Mayor Bevin Dermot, turns up dead. Bevin is known for knocking on wood for everything, but despite Destiny being all about superstitions that did not save his life.
Rory tries to help Gemma clear herself of being a murder suspect, even counting on her lucky black and white dog Pluckie to help. But is Gemma guilty of murder—or of just having a run of bad luck?
My Review: This is the second book in the Superstition Mysteries. You do not have to have read the first book, but it does fill in the background for the reader of how Rory ended up in this quaint yet quirky little town. In Knock on Wood Rory is settling into Destiny, managing the Lucky Dog Boutique and becoming part of the Destiny community. She is now giving talks about black dogs and black cats at the town's Welcome Program and thinking about renting or buying a place to live. She is also contemplating a relationship with the handsome Chief of Police, Justin, a sign that she is moving on from the death of her fiance. When her best friend, Gemma, shows up in Destiny a day before her scheduled visit, Rory knows something is wrong. When Gemma tells Rory that she has broken up with her boyfriend Frank, Rory notices that there are several men interested in her friend. There are some fireworks between the gentlemen and when one of them, that Gemma has had a public disagreement with turns up dead, Gemma is a suspect. In true Rory form, she plans to work behind the scenes to prove her friend is not a killer. Rory finds out that the dead man has made several people angry over the past few years and alienated others, but is that reason enough to kill someone? As the suspect list grows, Rory again puts herself in danger trying to find a killer.
The characters in this book are all developing or changing relationships. Rory is developing a relationship with Justin as well as friendships with some of the Destiny residents, in particular Carolyn who owns the button shop. Gemma's relationships with Lou and Stuart, as well as the disintegrating relationship with Frank are all an integral part of the plot. I do hope that we will meet more of the Destiny residents and their stories in future books. There are sure to be some interesting stories there.
The premise of this series being about living with superstitions is interesting. There are many mentioned that I had not heard of before, which is fun. The one thing that bothers me though, is the repeated superstitions such as knocking on wood, or finding a heads up penny or even black cats crossing your path. It does get annoying when they are repetitious sometimes. Rory has always had a healthy doubt when it came to superstitions, but with this second book, she seems to be starting to believe some of them.
If you love cozy mysteries, especially those with dogs in them, you will probably enjoy this book. If you just want to learn more about superstitions and have fun doing it, then pick up any of the books in this series.
I received a copy of this book from the publisher via Netgalley in exchange for an honest review.