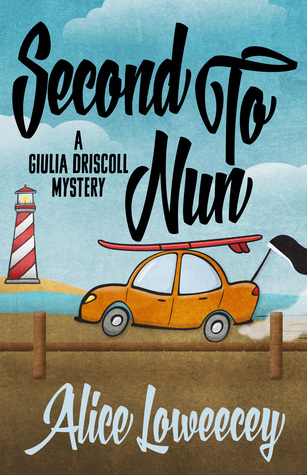 by Alice Loweecey
Published September 22nd 2015 by Henery Press
4 Stars
Synopsis: The Other Side has hired Driscoll Investigations. The owner of Stone's Throw Lighthouse Bed and Breakfast insists that a Tarot reading told her to hire Giulia to evict the family ghost. Since the ghost is cutting gas lines and flooding cellars, Giulia and her husband Frank head to the B&B to discover the real perpetrator.
The client also has a family legend: A highwayman who stole a pile of gold. Giulia has a pile of suspects, including a psychic the client hired to conduct weekly séances. So much for romance with Frank at this getaway.
Instead, Giulia's juggling arson, creepy clown dolls, and the psychic going all Exorcist on her. Then the ghost tries to push the client off the lighthouse and throw Giulia down three flights of stairs. It should've known better than to mess with an ex-nun. Giulia has connections and she's about to use them.
My Review: This is the second book in the Driscoll Investigation Series. Guilia, Sydney, Zane and Jane staff the business, but her husband Frank, a police detective, helps out so much that he may as well still be on the payroll. It may seem unbelievable that an ex-nun runs a private investigation business, but it makes for some fun reading, especially when she is having second thoughts about lying and deceiving others while coming to terms with her own post-convent life.
Giulia Driscoll and her staff are skeptical about taking on the "case of the haunted lighthouse." She is used to doing background checks, finding embezzlers and trailing cheating spouses, not chasing down ghosts. "Mac" the owner of the B&B housed in the lighthouse, offers her a large sum of money to help out and Guilia really likes her, so she takes the case. She and Frank are given an open invitation to take up temporary residence at the Bed & Breakfast to determine whether there is a ghost or if the so called psychic that does seances weekly behind the eerie happenings. Giulia quickly enlists her husband Frank's help, using the guise of a much needed get-away for the two workaholics.
Once Giulia arrives, strange things do happen, but Giulia and Frank are absolutely convinced that logical, rational, and entirely human explanations exist for them. They have a list of suspects to investigate as more and more unexplained things occur. Second to Nun has a great mix of excitement and suspense, and once I started reading, I could not wait to get to the end to find out who "the ghost" really was. Several different suspects took center stage in my mind as I read, and I did not figure out the culprit until just before it was revealed in the story. Giulia's crew keeps me laughing and that never hurts when reading a fun cozy mystery like this one. A great book for cozy mystery lovers who also like a little humor in the story.
I received a copy of this book from the publisher via Netgalley in return for an honest review.